If you're a new Wisely card holder and just received your Wisely pay card you'll need to visit activatewisely.com to activate your card so that you can begin using it and receiving all of the benefits offered to Wisely card holders such as using the card for online shopping and getting your salary deposited directly to your card.
Our article below covered all of the details that are pertinent so that you know how to activate your card and get the maximum benefits from you new Wisely ADP card account.
How to a Activate Wisely Debit Card
The first step you'll need to take is done by visiting www.ActivateWisely.com. An image of the activation page is shown below.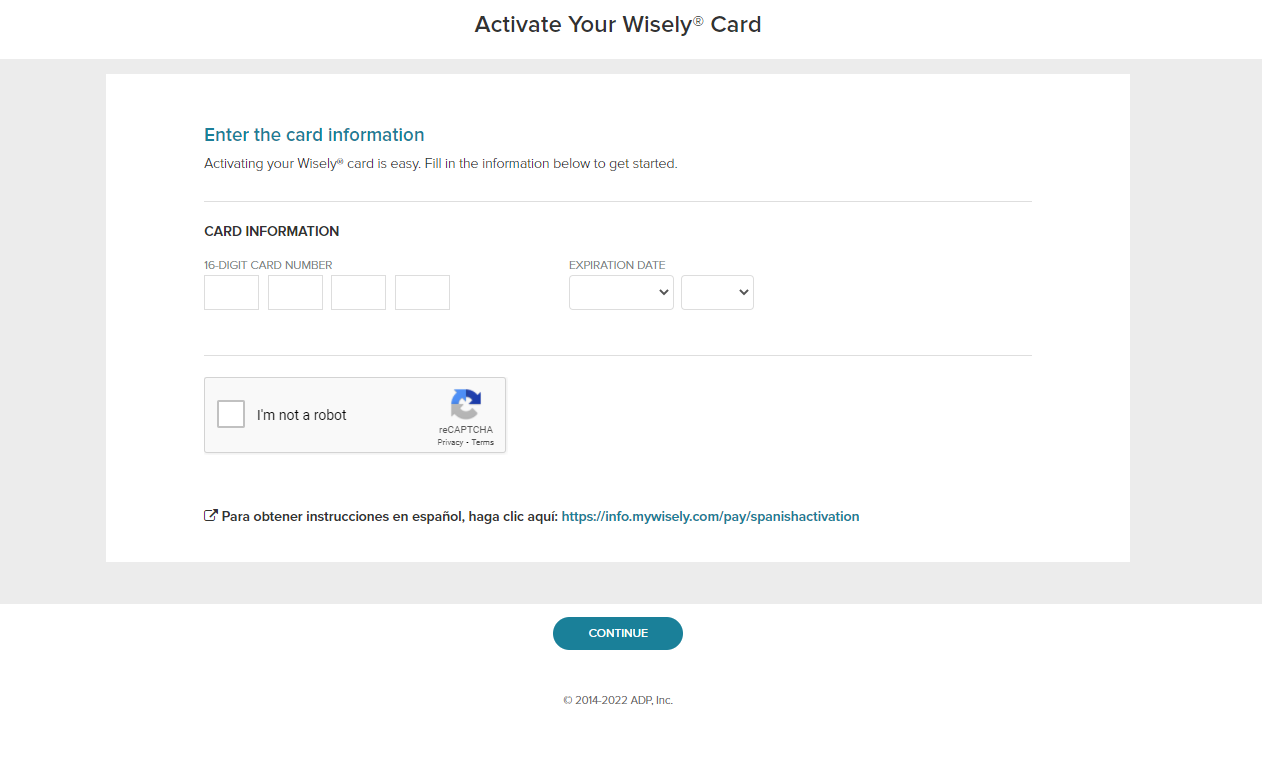 Steps to ActivateWisely Online
Once at the page to activate your card follow the steps below:
Enter your sixteen digit Wisely card number and card expiration date.

Check the box to confirm that you are a real person
Click the continue button to proceed with activating your Wisely card
Follow the remaining steps to activate wisely including typing the 3-digit security code from the back of your card so that you can begin using your card today.
Enter your personal information to complete your wisely card online account information such as your name, address, phone number to complete your card registration and activation.
Continue through the steps providing all requested info and then click the activate button to finish the activation process.
Once you've finished activating your card you will also register for your online account so that you can login to monitor all account activate, check your balance and more.
Activate Your Wisely Card by Phone
If you don't have internet access or just prefer to call you can activate your wisely card by phone by calling

1-866-313-6901
Activate Wisely in Espanol
If you speak Spanish and need to activatewisely.con in Espanol just visit the following page: https://info.mywisely.com/pay/spanishactivation
Login to My Wisely Account
Once you've activated your card you can visit https://info.mywisely.com/ to login to your Wisely Card account
What Are the Benefits of Having a Wisely Card?
Getting an ADP Wisely Card offers many benefits including the following:
Skip the bank and get your wages or government benefits direct deposited to your Wisely debit card account.
Fraud prevention and protection
Ability to use your card in person or online wherever Mastercard or Visa Debit cards are accepted
Ability to withdraw or add cash to your card at ATMs
No minimum balance and zero overdraft fees
Activate Wisely Card Support
If you need support with activating your card or for any other reason you can contact the company through the following channels.
Customer Support: 1-866-313-6901
Website: mywisely.com
Conclusion
The Wisely card and account function in a very similar manner to a bank account for those that are unable to get a bank account. You can get your wages or government benefits direct deposited to the card and once you visit activatewisely.com and get your account activated you can begin using your card right away, the same way your bank debit card works. If you recently signed up for a Wisely Pay card visit activatewisely.con to get started using your card today!