In this article we will be discussing the Turbotaxshare.Intuit.com website and remote screen sharing application which is almost exactly the same as the Glance Intuit Support Application but rather than being for accountants who need help with QuickBooks, the TurboTax Share application is for helping people complete their state and federal taxes through TurboTax.
Read on for more details if you're needing help completing your taxes as we cover everything you need to know about the TurboTaxShare Intuit remote support app.
TurboTax Live Screen Sharing Support

What is TurboTaxShare.Intuit.com?
Individuals who are attempting to complete there tax filings in TurboTax can get support if needed by downloading the TurboTax Screen Sharing Application from TurboTaxShare.Intuit.com. This allow them to start a remote session with a TurboTax Intuit support representative where they can provide access to their computer so the Intuit agent can quickly complete the steps they are struggling with in relation to completing their taxes.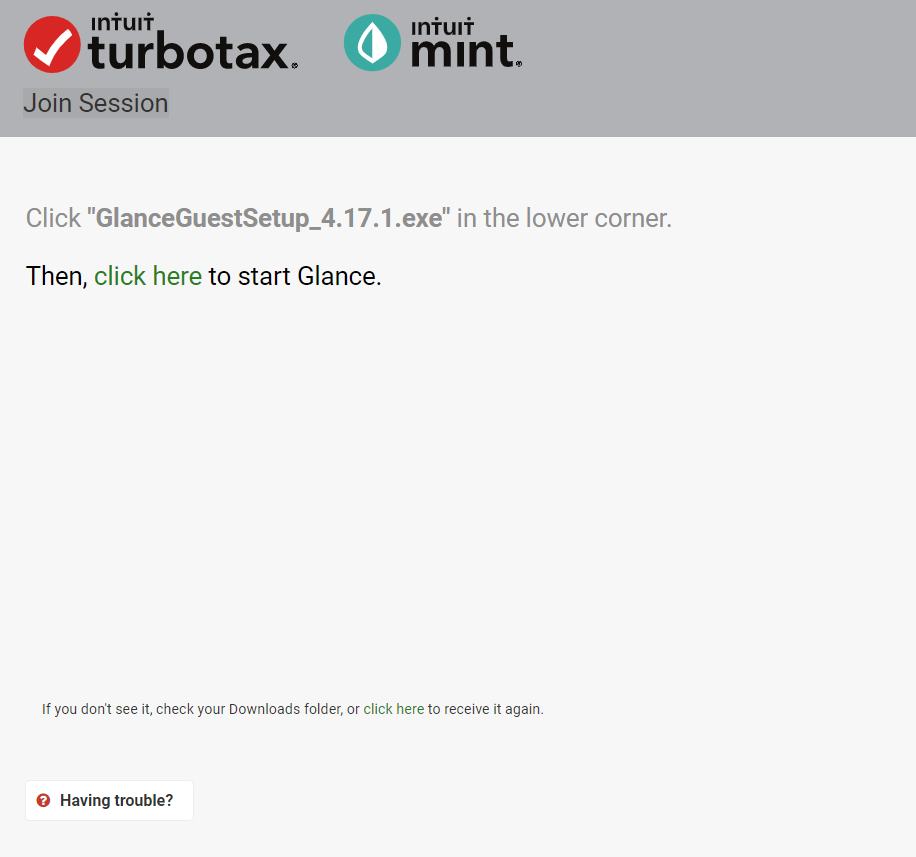 What are the Main Benefits of Using the TurboTaxShareIntuit.com Software?
If you are using the TurboTax software and having trouble completing your taxes you can get direct access to a TurboTax expert who works for Intuit by using the software. With their help you can save a ton of time when trying to complete your taxes and also have the piece of mind that you completed your taxes correctly. The distinct advantage of the TurboTax Share screen sharing support service is the fact it allows you to let a TurboTax agent actually take control of your computer so that they can complete the step for you instead of them trying to explain it over the phone which can be a nightmare when they are not looking at your computer screen.
How Can I Download the TurboTax Screen Sharing Remote Access Software?
Go to www.turbotaxshare.intuit.com and your download will automatically start on its own
Run the .exe file and adhere to the onscreen directions
Start the application and follow onscreen prompts to initiate a remote session with an Intuit customer care representative
*For additional assistance with TurboTax you can also find a live Intuit agent through TurboTax Smartlook by visiting livelook.intuit.com or support.turbotax.intuit.com/livelook/