It is amazing how fast your infant grows. One moment they are a little sleeping, eating and a waste making machines and the next they are sitting up on their own and starting to crawl. By 7 months old your baby is more alert and showing a real interest in the world around him or her.
In this review we have chosen the best toys and gifts for babies that are safe and earned high ratings.
To make shopping for 7 month olds easier we have divided the gifts into two categories. The first is the best toys for infants and the second category includes some great non-toy gift ideas for seven month old babies.
Helpful Tips for Choosing Great Stuff for a 7 Month Old
When choosing toys for a baby look for items that will help them develop their fine and gross motor skills.
Also look for toys that encourage your baby's sensory development.
Toys that will grow with the child are also a great choice.
When choosing clothing for infants this age, choose soft fabrics that are comfortable and non-binding allowing your baby to move freely.
---
10 Best Toys for a 7 Month Old Baby
1. Rock a Stack and Baby's First Block Bundle
This bundle offers Two Great Baby Toys for one incredible price. The rock and stacker features 5 doughnut shaped plastic rings that your child can stack on the rockable base. The stack block bundle offers 10 blocks in 5 different shapes and a shape sorter bucket for your infant to put the blocks into. The bucket is also great for storage.
These two toys can not only help your infant develop their grasping and fine motor skills, but also beginning problem solving skills as well. As your child develops the toys can be used to teach colors and beginning counting as well as matching and sorting. This gift should grow with children providing fun for them for the next couple of years.
Click here to see the latest price!
---
2. Baby Einstein Octopus Orchestra
This Cute Little Octopus is both sight and sound stimulating for young children. Infants also learn cause and effect as they quickly learn pushing one of large buttons will cause music to play. With 2 modes of play your baby can go from listening to music to making their own music. The lights as well as the music are sure to grab their attention. This toy does require 3AA batteries.
Click here to see the latest price!
---
3. Munchkin Float and Play Bubbles
This Set of Four Bubbles is fun in or out of the bath or kiddie pool. In the bath the bubbles float in the water while the characters and whirl toys inside spin and rattle. These bubbles stimulate your child's sense of hearing, sight and touch thanks to the little beads inside the balls that rattle around and the ridged ring on the outside of the smooth balls. Your child can pick up these bubbles and shake them or roll them on the floor or push them under the water and watch them bounce back up.
Best of all, parents don't have to worry about mold forming inside these toys because there are no holes where water can get in.
Click here to see the latest price!
---
4. Sit and Play Walker
This Fisher Price Sit and Play Walker is an excellent growth with your child learning toy. You child can sit in front of the cute dog and explore the 7 different activities which include a flip book, a dial, a ball that rolls around, and levers that can be pushed up and down. One your child is ready for those first steps the walker will help balance and will be used as a push toy.
This sit and play walker plays music, says phrases, and helps your child develop fine and gross motor skills.
Click here to see the latest price!
---
5. iPlay iLearn 10 Piece Rattle Set
This 10 Piece Rattle Play Set of toys is perfect for your child's sensory development. They offer a variety of textures, shapes, sounds and bright colors for visual appeal. These toys will be played with for at least a couple of years so they will grow with your child.
Click here to see the latest price!
---
6. Disney Pua Plush Moana
This Little Spotted Pig is a perfect stuffed animal for infants and small children. Soft and cuddly and the eyes are embroidered so there are no button eyes baby call pull out causing a choking hazard. Easy for 7 months old to pick up and carry around and soft enough that it won't hurt if your child happens to roll over on it while napping or taking a nap.
Click here to see the latest price!
---
7. Peek-A-Boo Forest Cloth Book
This Cloth Book is a perfect first book for a baby who is seven month olds. It has 6 pages for your little one to turn and flaps that can be lowered to reveal a hidden animal. The book has cute rhyming lines so you can read to your child. The book is washable, so it is easy to keep it clean in case your little one decides to chew on the pages.
Click here to see the latest price!
---
8. Vtech Wiggle and Crawl Ball
This Vtech Wiggle and Crawl Ball will encourage your 7 month old baby to crawl as this battery operated ball wiggles and wobbles across the floor encouraging your little one to follow along. This hard plastic ball has lights, music, phrases and sounds to hold your baby's interest and there is 6 interactive to help your child develop their fine motor skills. This ball does take 3AA batteries.
Click here to see the latest price!
---
9. Battat Squeeze Baby Blocks
These Squeezable Soft Plastic Baby Blocks are the perfect first building block set for infants. These blocks can be used for at least a couple of years and be used so your child can learn counting, colors and stacking. Best of all when your child reaches the throwing stage, these blocks won't hurt other siblings or mom and day.
Click here to see the latest price!
---
10. Fisher Price Boppin Activity Bugs
This Cute Little Boppin Activity Toy features 4 cute bugs that pop up as your baby pushes a button, slides a lever or twists and turns a knob. As each bug bops and to surprise your little one it makes its own unique sound. Then your baby just bats the bugs back down and starts all over again. Great fun for kids 6 months to about 3 years. (though parents love playing with this toy as well.)
Click here to see the latest price!
---
5 Non-Toy Gift Ideas for 7 Month Olds
1. Joovy Spoon Walker
This Joovy Spoon Walker is a great gift to help a 7 month old strengthen his legs in preparation for walking. The inserts are dishwasher safe, and the seat can pad is supportive and machine comfortable. This walker can adjust for your child's height and will hold infants up to 30 pounds. Over-sized wheels make it easy for your little one to maneuver their way around.
The tray on this walker is great for holding toys or snacks.
Click here to see the latest price!
---
2. Beach Baby Scenic Crib Sheet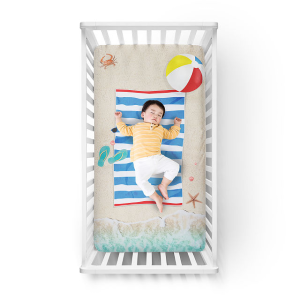 Turn your baby's crib into an Island paradise with this Beach Baby Scenic Crib Sheet. This crib sheet is absolutely adorable and is sure to make summer naps more fun both infant and parent.
Click here to see the latest price!
---
3. Owlivia Organic Romper
Made from organic cotton free from harsh chemicals and pesticides this Organic Cotton Romper comes in a variety of prints and colors. With infants outgrowing their clothes so quickly clothing is always a good choice for a gift for any age infant.
This romper is perfect for active babies since it is all in one piece you don't have to worry about a shirt riding up or pants riding down and your infant becoming uncomfortable or chilled.
Click here to see the latest price!
---
4. Bamboo Hooded Baby Towel and 2 Wash Clothes
Most hooded baby towels are made for newborns. This Bamboo Hooded Baby Towel by Cigreen is designed for older infants and toddlers. Made from bamboo this towel is gentle on your infant's skin and dries your child faster than other material. This cute little towel with brown ears will keep your child from becoming chilled when they come out of the tub.
Click here to see the latest price!
---
5. Cute Little Dressy Outfit for Girls or Dress Outfits for Boys
Parents like dressing their infant's up for special occasions so gifting that little one on your shopping list a cute dressy outfit whether it's an Outfit For A Boy or an Outfit For A Girl will make them look adorable and put a smile on mom and dad's face. You may want to choose an outfit made for slightly older children than the infants actual age if the child is big for their age.
Click here to see the latest price for Girls!
Click here to see the latest price for Boys!
---
Conclusion
When it comes to 7 month old infants there are so many great gifts and toys to choose from, it can sometimes be overwhelming. We hope this gift guide will help you to narrow down the choices so that you can gift that both parent and child will love.