By the time a young boy reaches 1 years old he can sit up by himself, crawl on his hands and knees, pull himself up holding onto furniture and may even have taken his first steps.
There are so many things available for boys aged 1 that choosing the best toys and gifts for a very them can be an overwhelming experience. In our list of the best toys and gifts for 1 year old boys we have gathered only the highest rated items that are very safe for young children and provide them with hours of fun while helping them develop necessary age appropriate skills.
In order to make our guide as easy as possible for you to follow we have divided it into 4 sections.
Section 1: Tips for on choosing good stuff for 1 year boys
Section 2: The 12 best toys for boys of this age
Section 3: The five best non-toy gifts for a 1 yr old boy
Section 4: What To Get a 1 Year Old Boy Who Has Everything?
Helpful Tips for Choosing Good Gifts for a 1 Year Old Boy
Look for gifts that will encourage that baby boy and soon to be toddler to sit, stand, and crawl.
Choose toys that offer the child different play options and that will grow with the child.
Pick stuff that will encourage them to develop both gross and fine motor skills while still holding their attention for several minutes or more.
Consider toys and gifts that allow children to explore using their sense – sight, sound, and touch.
---
12 Best Toys for 1 Year Old Boys
1. Vtech Busy Learning Cube
This Educational Activity Cube offers things for your baby to explore and play with on 5 sides of the cubes. There are buttons to push, objects to spin, songs to listen to as well as various animal sounds. This is a great toy to keep a young boy busy playing for long periods of time while they further develop and strengthen their fine motor skills and learning about cause and effect.
Click here to see the latest price!
---
2. Deluxe Busy Time Play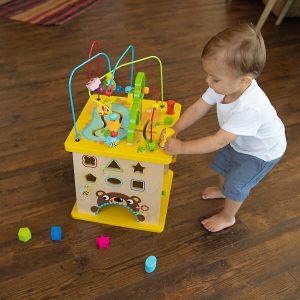 This Large Cube Play Table will encourage your child to both stand and walk around to the different sides of the table to explore a host of different activities all with a cute animal theme. There is a shape sorter with 6 different shapes, cranks to turn, doors to open, bugs that move across cut out tracks, pegs that pop up and down, This block table stands almost 2 feet high and will grow with your child helping them learn colors, shapes, animal names, number recognition and so much more.
Click here to see the latest price!
---
3. Stacking Cups
Sometimes the simplest toys are best as these Stacking Cups make a great gift for a 1 year old boy. These cups can be nested together. Turn upside down and stack to make a tower. Used as bathtub toys, Used to put objects inside and make rattling sounds and as that little boy grows they can be used for color and number recognition as well as for counting, learning about bigger and smaller and so much more.
Click here to see the latest price!
---
4. Playskool Poppin Pals
This Playskool Poppin Pals is one of the toys that little ones just love to play with. The toys will help develop fine motor skills and teach cause and effect and children just love to push the top down and hide the little animals away and then move the levers, push buttons or turn the key to watch each animal pop up again. It is a fun toy that can be used to teach children counting and number recognition and is for your child just plain simple fun.
Click here to see the latest price!
---
5. Vtech Sit-to Stand Walker
If you are looking for a toy that will keep your child happily exploring and help them with taking those first steps then this Vtech Sit-to-Stand Walker makes a great gift. The walker requires 2AA batteries (which comes included) and has a variety of activities for your child to entertain them with. There is a play phone, two rollers that spin, five piano keys to make music with, a shape sorter and more. There are also a lot of sing along songs, phrases and sound your child will enjoy hearing as well.
Click here to see the latest price!
---
6 Little Tikes Go and Grow Ride on Giraffe
If you are looking for a Great Ride On Toy For A Young Toddler just beginning to walk this Cute Little Ride On Giraffe will make a great gift. I can be used inside or out and that little man in your life will enjoy using his feet to push himself along on this cute little animal.
Click here to see the latest price!
---
7. A Cuddly Stuffed Bunny
Toddlers love a soft stuffed animal that they can curl up with at story time or nap time and this Bashful Stuffed Bunny is sure to become a young toddler boy's best pal. It is a great toy to stir a child's imagination and works great when a small child wants self comfort.
Click here to see the latest price!
---
8. Munchkin Bath Bobbers
Make bath time more fun that little one with these Cute Bath Bobbers . A polar bear and penguin will bob around the tub keeping that little company as they bathe and best of all there are no holes for water to get inside so you won't have to worry about any harmful mold.
Click here to see the latest price!
---
9. Bubble Mower
A great gift to encourage your little one to walk and enjoy some time outdoors is this Cute Little Bubble Mower . What could be more fun for a toddler than pretending to mow with a mower that makes realistic sounds and makes bubbles with every step that they take. This toy does require 3AA batteries so make sure you give the batteries with the gift.
Click here to see the latest price!
---
10. Rockin/Rollin Pony
This Fun Pony Rocking Horse changes from a rocking horse to one on wheels and to make this horse even more fun When the child squeezes the ear the pony's mouth moves and he talks or makes sound. When set on the rockers the pony is a foot high, and is 10 inches high with the rocker removed. Great fun for little ones, but it does require 3AA batteries. This pony is also incredibly soft and perfect for hugging and petting.
Click here to see the latest price!
---
11. Oball Go Gripper Vehicles
These Cute Little Toy Cars are easy for young children to pick up and roll along the floor. The charming little faces on each of the vehicles will make both children and adults smile. These cars are lightweight and can withstand the rough and tumble play of young boys.
Click here to see the latest price!
---
12. Hide and Squeak Eggs
These Hide and Squeak Eggs are the perfect gift for any 1 yr old boys Easter Basket. Toddlers love cracking open the eggs, discovering the different colored chicks inside and hearing them squeak. These toys will help children match colors, mix and match faces, shape matching, counting and more.
Click here to see the latest price!
---
5 Non-Toy Gift Ideas for One Year Old Boys
1. The Pout-Pout Fish
No products found.
Books are always a great gift for one year olds because it encourages a love of reading and makes for parent/child or sibling bonding time when you read to a child. This No products found. is an adorable story that both children and adults will love and best of all there are other pout-pout fish books for children to enjoy.
Click here to see the latest price!
---
2. 15 Piece Essential Clothing Set
No products found.
This No products found. makes a great gift for Christrmas for a child's 1st birthday. With 3 pair of pants, several shirts, 4 bibs, and a hoodie your little boy will have everything they need for day to day wear and comfortable play.
Click here to see the latest price!
---
3. Toddler Dish Set
This Fun Tractor Dish Set will make meal time more fun for your toddler. This three piece set comes with a divided dish in the shape of a tractor, a spoon and fork. That little boy in your life will love this dish set and it may even encourage him to eat his vegetables.
Click here to see the latest price!
---
4. Toddler Pajamas
These Set of 3 Pairs of Footy Pajamas will keep that little toddler warm and comfortable, which will lead to a better night's sleep. These pajamas will not only keep that little boy warm during sleep, but will warm him up after his bath or early in the morning while watching cartoons.
Click here to see the latest price!
---
5. Plush Child Size Chair
Why not allow your toddler to have a soft chair to cuddle up in when looking at a book or watching TV. These Cute Little Animal Chairs will make your child feel like they are wrapped in a hug and are the perfect size for young boys.
Click here to see the latest price!
---
What Are Unique Gift Ideas for a 1 Year Old Boy Who Has Everything?
Sometimes young boys already have more toys and clothes than they could possibly need and their parents simply don't want you to purchase anything more at this stage in their life. So what do you get that little boy that seems to everything they need? Here are a few suggestions that may help.
Consider Buying Toys to Be Kept at Your Home – If you are grandparent or aunt or uncle why not consider buying a gift that the toddler can use when they come to your home. This will make the gift you give almost like new each time that your child comes to play with a toy that he doesn't have at home.
Consider Starting A Savings Bond or Account – While a savings account for a toddler may not be something that will excite them right now they will certainly appreciate that money later when they want a bike, a car, or some other expensive item and realize that they have money to buy what they want or need.
---
---
Conclusion
We hope that this gift guide for 1 year old boys will help you find the perfect gift for the young boy in your life.