By the age of 2 most little boys are walking well, exploring their world and their gross and fine motors skills are rapidly developing. Most 2 year olds are full of energy and while they love trying new things they also have favorite activities that they enjoy engaging in again and again.
We have chosen the best gifts for 2 year old boys that they will enjoy and that will help them to develop their fine and gross motor skills while exploring the world in a fun and safe way. We have spent hours reading reviews in order to choose only the safest and highest rated toys and gifts for boys this age.
In order to make it easier for you to find just the right gift for the little boy in your life we have divided this gift guide into 3 sections.
Section 1 – 12 best 2 year old boy toys?
Section 2 – What are good non-toy gift ideas for boys of this age?
Section 3 – What do you give a 2 year old who has everything
Helpful Tips for Choosing Good Gifts for 2 Years Old Boy
When choosing toys for young toddlers look for those toys that will help your child build their fine and gross motor skills.
Consider both inside and outside toys for a toddler to explore more of their world.
When choosing non-toys for young boys choose items that are useful and look for items that bring them joy or comfort.
---
12 Best Toys for 2 Year Old Boys
1. Building Block Set
Little kids can develop hand/eye coordination and fine motor skills by playing with these Building Blocks . In addition, young children enjoy stacking things and seeing how tall they can go and they can actually begin to build simple things by experimenting with stacking and copying the things parents or older children build. In addition, blocks are great for the toddler developing sorting skills and starting to recognize colors and shapes.
Click here to see the latest price!
---
2. Dinosaurs on Wheels
Every little boy loves dinosaurs and this Set of 4 Dinosaurs On Wheels will be great fun for any toddler. Your child will love racing his dinosaurs with each other and best of all there are enough of these cute little creatures that your child can play with a sibling, a parent, or a friend.
Click here to see the latest price!
---
3. Harley Davidson Tricycle
This Harley Davidson Trike is perfect for a 2 year boy. It has large pedals, easy grip handles and a sturdy wheelbase. This trike is easy for young children. The trike has a storage space for the little boy to store away their toys. A strike that a child can ride themselves will leave them feeling more independent while having a good deal of fun and strengthen their gross motor skills.
Click here to see the latest price!
---
4. Vtech Smart Shots Play Center
The Vtech Smart Shots Play Center will introduce that boy in your life to sports. There is a soccer net and basketball hoop and balls to match so that little one can practice throwing and kicking. There are also buttons along the side to help teach your two year old sounds, songs, and phrases and introduces numbers 1-10. This Play Center does require 3AA batteries so make sure you stock up on them.
Click here to see the latest price!
---
5. Monster Plush Bowling
No products found.
Toddlers love knocking things over, so what could make a better present than this No products found.. The bowling pins are 6 cute fuzzy monsters with weight bottoms that are anything, but scary to a young child. The ball too is soft and sized right for a toddler's smaller hands. Kids will be thrilled with this adorable gift and you are likely to hear a lot of giggles and laughs as they manage to knock the pins down.
Click here to see the latest price!
---
6. Turtle Sandbox
No products found.
If you are looking for cute outdoor toys for toddlers that they will play with again and again then this No products found. will make a great gift. This sandbox is 29 ¼ inches wide and 35 inches long and comes with a lid to cover the sandbox when not in use to keep the sand clean longer. Roomy enough for two toddlers to play together and with the legs working as built in seats this sandbox should provide any child with years of use and fun warm weather play.
Click here to see the latest price!
---
7. Wobble Run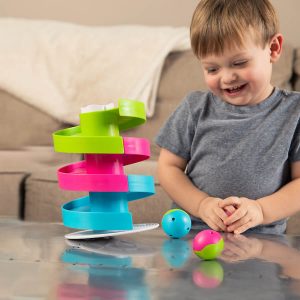 View Product on Fat Brain Toys
This Cute Little Wobble Run Game is a fun toy for young children and will allow your child to develop their fine motor skills, stimulate their sensory perception and is just plain fun for your little one.
Three different sections of track with different textures can be put together however the toddler wants. Send a ball down the track and the entire track wobbles as the ball rolls down making this a fun toy that most toddlers will enjoy playing with over and over again.
Click here to see the latest price!
---
8. Personalized Name Puzzle
A great Christmas or birthday gift and a great way to teach children the letters that make up their name. This Personalized Name Puzzle is fun for children and this puzzle can be used to teach colors, counting, letters, and the child's name. Made from wood, this puzzle can be worked over and over again and once your child grows too old for this puzzle to be interesting anymore the pieces can be glued in and the puzzle used for a name sign in their room.
Click here to see the latest price!
---
9. Green Toys Dump Truck
The perfect toy for any little boy who loves trucks. This Dump Truck is made from recycled milk cartons so it is safe for little children to use. Kids will love filling up the bed of this truck with small toys, pine cones, sand, small rocks, and then driving the truck to a new location and dumping it out. This truck can be played with almost anywhere in the house, in the yard and at the beach.
Click here to see the latest price!
---
10. Slide Play Area
The SimPlay3 Slide offers toddlers a variety of different activities for little boys to enjoy. There is a ladder, a slide, crawling holes, A little sitting or standing area. This slide is durably constructed and will provide hours of fun play as your child explores the slide set and uses their imagination in a variety of ways.
Click here to see the latest price!
---
11. Camping Play Tent
Let that little boy in your life enjoy all types of camping adventures without ever leaving the comfort of their home. This Cute Little Camping Tent is perfect for young children to engage in imaginative play and the tent even makes a nice cozy place for your little one to take a nap. Add two AA batteries to the stove and the lantern and both of these items will light up for even more fun play. Can be played indoor or out in nice weather.
Click here to see the latest price!
---
12. Duplo Number Train Set
This 23 Piece Duplo Number Train Set makes a great gift for 2 years old boys. This 23 piece set is easy for toddlers to put together, teaches them number recognition and the wheels for the train runs smoothly and easily. It comes with a couple of play figures and a cat. This makes a great Christmas or Birthday gift for any boy (or girl) on your shopping list.
Click here to see the latest price!
---
5 Great Non-Toy Gift Ideas for 2 Year Old Boys
1. Dr. Seuss Beginner Book Collection
If you are looking for a great gift for a little boy there is no better gift that you can give than the gift of reading. This Doctor Seuss Book Set contains 6 Dr. Seuss books that parents can read to their child helping them develop a love of books that could last them a lifetime. It also makes for great parent child bonding time.
Click here to see the latest price!
---
2. Sweatshirt Pants Outfit
2-year-old boys grow so fast that clothing always makes a great gift for them. This Cute Little Hooded Sweatshirt Outfit is a perfect Christmas or Birthday gift for any boy keeping himm warm and cozy and looking cute to boot.
Click here to see the latest price!
---
3. Mickey Mouse Sofa
The world can seem to be a big place to a 2 yr old so having their own little chair or sofa to that is just their size where they can sit or lay down when watching television, or looking at books. This Colorful Mickey Mouse Sofa Chair is perfect for that little boy on your shopping list.
Click here to see the latest price!
---
4. Pajamas
This Set of Three Footy Pajamas with gripper feet will make a great gift for any toddler boy. These cute pajamas will keep any toddler warm and comfortable during the fall and winter months, making them the ideal Christmas or birthday gift for those born in the autumn.
Click here to see the latest price!
---
5. Thomas the Tank Bed
If your toddler boy needs a new bed then this Thomas the Tank Engine Bed will make a great gift for any young boy. Going to bed at night in this bed will make sleep time more fun for your child so there may be less fussing when bedtime comes.
Click here to see the latest price!
---
What Are Unique Gift Ideas for a 2 Year Old Boy Who Has Everything?
As parents, grandparents, aunts, and uncles we tend to want to spoil the littlest ones in our families by giving them tons of toys and gifts. However, there comes a time when there are just too many toys for one little boy to play with or their bedroom to hold. So just what do you give the little boy who already seems to have to have everything?
Activities – Many communities or organizations sponsor activities for little boy. Why not consider purchasing a fun activity such as music, dance, art, or other activities geared towards young children.
Family Pass to An Activity – Consider giving a family pass to an activity that a toddler would enjoy, such as trips to a petting zoo, a children's museum or play area, or state park. It will introduce the child to fun new activities they can enjoy as well as make for family bonding time.
Plan an Activity With the Child – One of the best gifts you can give a toddler is to give a gift of spending time with them engaging in a fun activity. Whether that activity is baking cookies, making Christmas or Easter decorations or simply taking them for a day of play at a local park. Spending time with the young child in your life will make memories more precious than any toy you could give.
---
---
Conclusion
It is our hope that this guide to the best toys for 2 year old boys will provide inspiration and help you choose the perfect gift for that little boy in your life.