Women in their 50s are at an interesting place in their lives, they have well established careers, their children are grown up and out and on their own, and for the first time in their lives many of these women have significant amounts of time for themselves.
All of this means that their focus begins to change from catering to family 24/7 to following some of their own interests and maybe even finding some new hobbies.
As such we've created a list of some of the best gifts for women over 50. These are great gift ideas her adult children may want to get for their mother or really for anyone buying a gift for a woman in her fifties!
After the main gift list there are even some unique experiential gift ideas that weren't included in our list of products!
---
Great Gifts for Women in their 50s
1. Smirly Cheese Board and Knife Set
Once the kids are out of the house women tend to be able to enjoy more elegant entertaining than they could when they had young children at home, so a great gift for women in their 50s who enjoy entertaining is this Elegant Cheese Board and Round Sectional Serving Plate . The cheese board comes with a pull out tray in front which hold a choice of cheese knives, a fork and wine bottle opener. There is also a pull out tray on each side for meats and cheeses, and a round sectional plate perfect for fruits and other treats.
Click here to see the latest price!
---
2. Picnic Backpack
If you know a woman over 50 who enjoys road trips or simply enjoys getting out and spending time in nature then a Great Picnic Backpack will make an excellent gift. This picnic backpack comes with a waterproof blanket, wine cooler bag, plates, silverware, wine glasses, napkins, cutting board and more. There is even a large section to pack your picnic food in, so everything is kept neatly together making this picnic backpack perfect for those on the go.
Click here to see the latest price!
---
3. Garden Mobile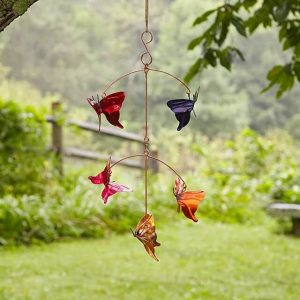 Every woman regardless of age enjoys seeing beautiful things in their home and their yard and this Beautiful Butterfly Garden Mobile will look perfect hanging off a tree branch or a deck. The elegance of this mobile makes it the perfect gift for a woman in her 50's.
Click here to see the latest price!
---
4. An Elegant Necklace
This Beautiful Diamond Necklace is a piece of jewelry that most women will treasure for the rest of their lives. When getting started in life and raising children most women focus their money on home and family so what would make a better gift idea for women over 50 than to give them a nice piece of jewelry that they will really love.
Click here to see the latest price!
---
5. Versatile Lounging Kaftan
Most women over 50 want to look great without spending hours dithering over what to wear. Giving a woman of this age a lovely yet Versatile Lounging Kaftan can give her something to wear for multiple occasions. This Kaftan will make a great cover up for the beach or the pool, or for relaxing in the backyard or on the sofa. This Kaftan can also be worn to dinner on a warm summer evening or even an afternoon of shopping.
Click here to see the latest price!
---
6. Quality Luggage
With their kids grown and out of the house many women have the time to travel so why not give present that woman over 50 with a Gift of Durable Luggage . Whether that woman in your life is visiting their child at college for the weekend, enjoying a cruise of a lifetime or traveling for business some nice durable luggage will make a great gift whether they travel occasionally or often.
Click here to see the latest price!
---
7. Fashion Scarf
As women get older they want to look great without a lot of fuss or muss and giving them Two or Three Fashion Scarves as a gift will allow them to accessorize everything from a pair of casual jeans and sweater to a business suit simply and easily while allowing them to look fresh and stylish.
Click here to see the latest price!
---
What Are Some Gifts for Women Over 50 That Did Not Make Our List?
There are some great gift ideas for women aged over 50 that did not make our list, so we thought we would list them here for anyone looking for additional ideas.
1. A Spa Day
Why not treat that woman in your life to an entire spa day complete with a facial, massage, manicure and pedicure. She'll feel like a million bucks and really enjoy a day just to relax and be pampered.
2. A Weekend Trip
Women in their 50s are still young enough to engage in some adventures, but now have the time to explore more than they did when they were young. Giving a long weekend trip to somewhere that your mother, aunt, sister, or grandmother would really like to visit will make an excellent gift for any woman in her 50's.
---
Related Articles
Best 50th Birthday Gift Ideas for Men & Women
---
Conclusion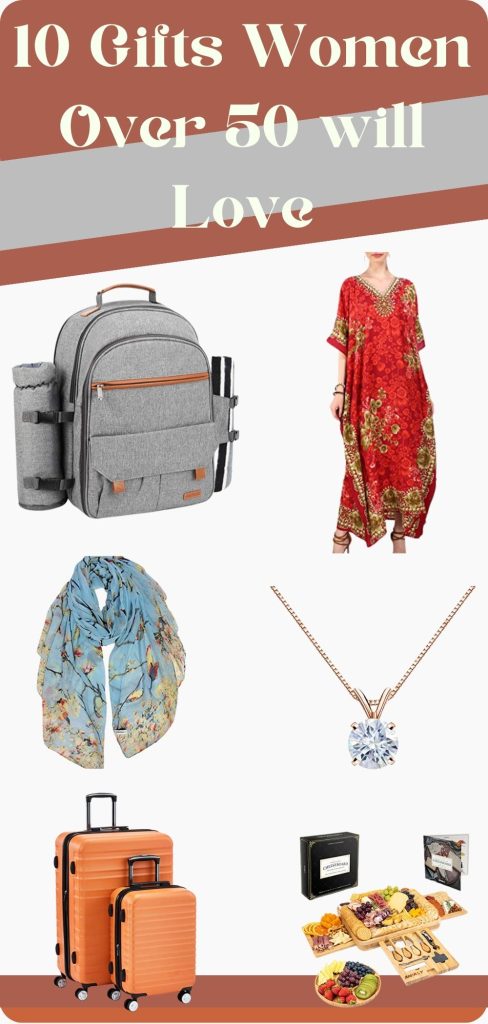 If you need some wonderful gift ideas for the woman over 50 in your life, one of these gift ideas may be just what you are looking for.