At 3 years old most little boys are growing fast and seem to be developing new skills on almost a daily basis. At this age they climb stairs, ride a tricycle, climb, hop, speak in full sentences, sort by shapes, sizes and colors and even count. The most difficult thing about choosing toys for boys aged 3 is that there are so many choices it can be overwhelming.
Due to this we have provided this list of gift suggestions for 3-year-old boys. In creating this list we have cut those choices down for you by choosing only the highest rated toys and gifts that will help your child to develop their gross and fine motor skills as well as their cognitive abilities.
In order to make choosing the right gift simpler and easier for you we have divided this gift guide into 4 short sections.
Section 1: Tips for choosing great gifts for the 3 year old boy in your life
Section 2: 12 best toys for three year boys
Section 3: 5 great non-toy gifts for a boy of this age
Section 4: What are good gifts for a 3 year old boy who has everything?
Helpful Tips for Choosing Good Gifts for 3 Year Old Boys
Boys who are turning 3 have a lot of energy and as such outdoor activities are a great way for them to burn off their excess energy so considering some outdoor toys to make your days easier with them.
With little kids developing fast but having a limited attention span it's important to consider a balance between fun and educational toys so that they can stay on track with developing critical skills but also have fun.
Little boys love play trucks and building sets don't but be afraid to get them what would be considered atypical toys for boys such as a play kitchen.
---
12 Best Toys for 3 Year Old Boys
1. Balance to Pedal Bike
This Balance to Pedal Bike is a great gift for any older toddler who is ready to ride a bike. The young boy on your shopping list can use the balance bike and learn how to balance and simply get used to how a bike moves and then when he is ready the pedals can be attached and he can ride a real bike. This 2-in-1 balance bike will grow with the child and he will be able to use it for 2 or 3 years.
Click here to see the latest price!
---
2. Bowling Game
This cute Little Bowling Set is not only perfect for 3-year-old boys and will provide hours of fun. This game will help your child develop his coordination, balance and hand/eye coordination and more. The colorful numbered pins will reinforce number and color recognition, which is important at this age.
Click here to see the latest price!
---
3. Wooden Train Set
What young boy isn't fascinated by trains, making this Wooden Train Set ideal for playtime. The set comes with 12 cars and a nice display/storage box. Cars include 3 engines, tender, coaches, hoppers, cabooses and other train cars. This is a toy that is sure to bring any little boy on your shopping list hours of fun.
Click here to see the latest price!
---
4. Reeves International Big Dig Sandbox Digger
If you are looking for a great toy to keep that young man happily playing outdoors during the warm summer months then this Big Dig Sandbox Digger will serve that purpose. That young man in your life will feel like he is running a big piece of construction equipment as he digs up sand in the backyard sandbox or at the beach. Since this digger swivels 360 degrees kids can dig in one spot and pile the sand in another spot.
Click here to see the latest price!
---
5. Farm Animal Set
This Cute Farm Animal Set comes with 7 common farm animals. The animals are good size to play with and your child can play with them inside or outside in the sandbox. These animals are quite realistic looking and may create an interest in children to learn more about farm animals. Either way this farm set will make it easy for your child to engage in pretend play.
Click here to see the latest price!
---
6. Timber Log Builders
No products found.
This No products found. with 699 pieces will give any 3 year old tons of options when building log cabins, barns, fences, forts and so much more. Your child will gain problem solving skills and develop hand eye coordination.
Click heref to see the latest price!
---
7. Paint Sticks
These Pencil Grip Paint Sticks are a great way to allow a younger child to paint without having to worry about them making a huge mess. These paint sticks can be held in the hand just like a pencil, which will give a young child better control. Drawing and coloring will help a young boy develop his fine motor skills and hand/eye coordination.
Click here to see the latest price!
---
8. Wooden Animal Puzzle
This Set of 4 Cute Animal Puzzles makes a great gift for any 3 year old. They will like the colorful pictures and puzzles help children to develop their fine motor skills and problem solving as well as help children begin to think logically. Since these puzzles are made from wood they are durable enough to be put together over and over again.
Click here to see the latest price!
---
9. Coloring Pad
Coloring helps develop a child's fine motor skills helping them prepare for forming letters and numbers. This Fifty Page Coloring Pad allows you to choose between vehicles, animals and other subjects. Children of this age can color using their imagination or be more realistic, whichever they choose. Best of all there are enough pages in this coloring pad that the child can enjoy engaging in this activity with other siblings, parents or grandparents.
Click here to see the latest price!
---
10. Lacing Cards
No products found.
No products found. make a great fun and educational gift for a childs 3rd birthday. Not only does this activity aid children in developing their hand/eye coordination and fine motor skills it also allows them to feel creative. These lacing cards consist of 5 cards, 5 lace and 5 additional add ons that can be added to the cards. Best of all, these cards are made of wood so they will be able to be used over and over again.
Click here to see the latest price!
---
11. Bean Bag Toss Game
This Bean Bag Toss Game will help children develop motor skills, counting skills, and early math skills while having fun. This game can be played inside and out so it makes fun indoor play during those cold winter months and can be played outdoors when the weather is nice and warm. Kids will love this game and they will be thrilled every time they get a bag inside of the hole.
Click here to see the latest price!
---
12. Whack A Frog Game
This Whack a Frog Game is a fun interactive game that any young boy on your shopping list will love. After all, what kid doesn't have fun hitting things with a hammer? Made for one or two players the object of the game is to hit the lighted frog. This game will help children develop reflexes, improve hand/eye coordination and improves motor skills. The hammers are soft so no one gets hurt and there are several levels of play so that this game will last children a number of years.
Click here to see the latest price!
---
5 Best Non-Toy Gift Ideas for 3 Years Old Boys
1. I'll Love You Forever (Story Book)
This Love Forever Book about unconditional love between parent and child makes a perfect gift for any child. Children need to know that no matter what their parents love them and this book brings home that message in a cute, but a meaningful way.
Click here to see the latest price!
---
2. Pajamas for Young Boys
Pajamas always make a great gift for anyone on the shopping list and these Toddler Footed Pajamas will keep that a three yr old warm and snug during those cold winter months. These pajamas come in a variety of designs including one with a Christmas theme.
Click here to see the latest price!
---
3. Shirt and Pants Outfit
This Cute Shirt and Pants Outfit makes a great Christmas or birthday gift for three year olds. It's perfect for attending pre-school or for simply playing indoors or outdoors. Most boys this age will love the bright colors of the shirts in this outfit.
Click here to see the latest price!
---
4. Rain Coat
Giving that older toddler a Coat That Will Keep Them Dry On Raining Days may not be an exciting gift, but it will be well appreciated when that little one stays snug and dry when they have to go outside during damp weather.
Click here to see the latest price!
---
5. Paw Patrol Desk and Storage Bin
This Cute Little Desk with the enclosed storage bin is a perfect gift and perfect addition to any 3 years old boys room. It gives the child a place to color, draw and play with small toys that is a size that is comfortable for the child. Bright colored and decorated with characters most children immediately recognize this desk is great fun for almost any child who loves Paw Patrol.
Click here to see the latest price!
---
What Are Good Gift Ideas for a 3 Year Old Boy Who Has Everything?
Many parents want to limit the amount of toys and clothing they purchase for their young children, which may mean that the child already has everything they could want or need at a given moment in time. If you happen to be in this situation then here are some alternated gifts you can consider.
Gift Certificates – Consider giving your child a toy or gift certificate so they can get something in the future once they have outgrown some of their current toys.
Family Gift – Why not consider giving a gift that will be great for the entire family such as a year's pass to a zoo, or a children's science museum? You can even include a scrapbook as part of the gift so the family can record all of the fun that they have.
---
Related Gift Guides
---
Conclusion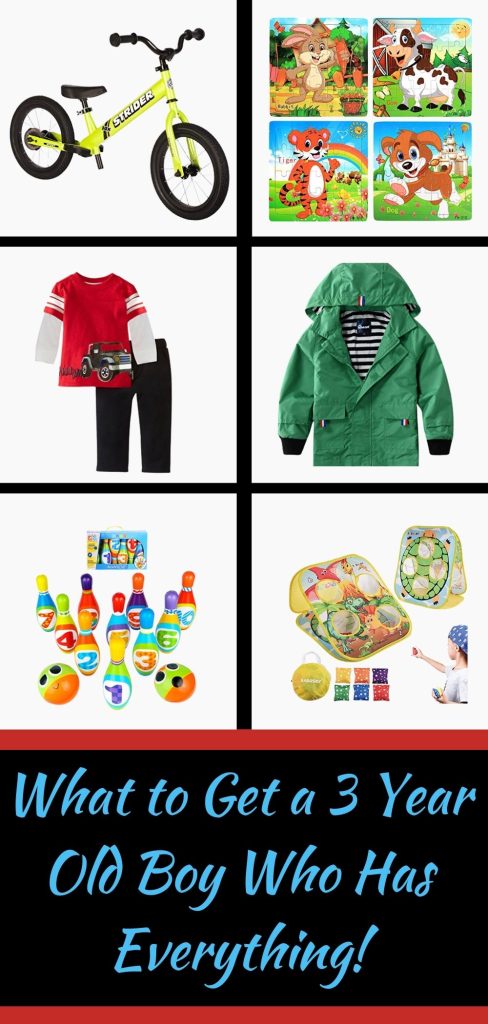 We truly hope this gift ideas list will help you find some great gifts for that 3 year olds boy in your life or at minimum provide you with some inspiration to elevate your gift gifting.