By the time that little boys reach the age of 5 they are speaking in complete sentences, their fine motor skills have improved a great deal and they are ready to start their kindergarten year where they will be rapidly learning as well as making new friends and engaging in new activities. However, at this age play is still of major importance to boys and it is still one of the best ways they learn and gain new skills.
Our list of best toys and gifts for 5 year old boys includes toys that will help them to continue to develop both their physical and cognitive skills while providing the fun factor that five yr old boys want and need.
To make it easier for you to find the right toys and gifts for the little boy you're buying for we have divided this gift guide into 4 distinct sections.
In section 1 you will find tips for selecting toys for 5 year old boys. In section 2 we have compiled a list of some great toys for young boys. Section three is the top 5 non-toy gifts for boys of this age and finally, section 4 is our "what do you give a boy of 5 who has everything", which includes some alternative gift ideas for someone who is looking for a gift somewhat different that those that are run of the mill.
As always we have selected only those gifts that get high ratings from people who have actually purchased these products.
Helpful Tips for Choosing Good Gifts for 5 Year Old Boys
Children of this age go 20 miles a minute and need to have at least some toys that allows them to burn off their excess energy in order for them to concentrate better and get a good night's rest. So consider at least some toys that will play into their need for activity.
Many boys who are 5 struggle with concepts as they are presented in a classroom setting so consider giving you child toys that help develop their mind as well as their muscles.
Consider toys and gifts that will encourage your child's imagination and creativity.
---
12 Great Toys for 5 Year Old Boys
1. Gears! Gears! Gears! Movin' Monkeys Building Play Set
This Monkey Building Set comes with 132 pieces and includes gears, base plates, cranks, connectors and monkeys. Kids build a monkey playground and then use the cranks to play with the set making the different monkeys spin, twist and turn.
This set is great for allowing your child to use their imagination and creativity while at the same time helping them develop their fine motor skills as well as their problem solving skills in a way that is fun and interesting for any young child.
Click here to see the latest price!
---
2. Teeter Popper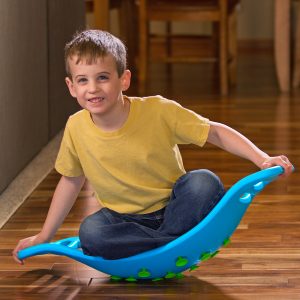 View Product on Fat Brain Toys
The Teeter Popper is like a miniature one man teeter totter than can provide a young child hours of fun. The suction cups on the bottom of the curved plaster teeter will make popping sounds as children rock the popper back and forth. This toy can be used sitting down on standing up and when used while the child is standing it can help them improve their balance and build up their core strength.
In addition, kids love the popping sound the teeter popper makes when used on wood or tile floors.
Click here to see the latest price!
---
3. Fantasy Fort
This Fantasy Fort Building Kit contains 32 faux wood features and connectors that allows children to build forts or cabins they can actually play in. The panels are made to look like rough cut lumber or old barn wood and have double sided Velcro so the panels can be connected to one another. The pieces can be put together and the fort played in and then taken apart and something new built. You can even use some of the pieces to build a storage box to store the rest of the pieces in. This is a great toy for those rainy or cold days when outdoor play is out of the question.
Click here to see the latest price!
---
4. Snug As A Bug in Rug Game
Snug As A Bug In A Rug is a cooperative game that helps teach children how to work with others as a team. The object of this game is for all the players to work together to get all their colorful bugs safe before the stink bugs show up and stink everything up. This is a great game for practicing colors, numbers, shapes and counting while learning to take turns and work together on making decisions. The game takes about 15 minutes to play perfect for younger children's short attention span.
Click here to see the latest price!
---
5. Untamed Raptor
For some reason kids love dinosaurs and this Untamed Raptor comes in 4 colors with 4 different names for you to choose from. This little Raptor fits on a child's finger and when you use the app. Not only does this dinosaur cling to your child's finger he also roars, chomps, and reacts to motion and touch. Kids will love having their own finger size pet.
Click here to see the latest price!
---
6. Matchbox Cars
No products found.
Most young boys love playing with cars and this No products found. makes a nice Christmas stocking stuffer or filler for that Easter basket. The set of vehicles contains one truck and 5 different cars including a station wagon and a police car that you child will love to play with. Even if the child already has some Matchbox cars they will love adding this set to their collection.
Click here to see the latest price!
---
7. GeoSafari Talking Microscope
This Toy Microscope is not only fun for kids to use, but it gets them interested in science at an early age. Best of all your child can even take quizzes to see how much they have learned. The microscope comes with 60 full colored slides and a storage drawer in the microscope to keep the slide in. The information your child will learn is given by Bindi Irwin. It does take 3AAA batteries to run the microscope so make sure that you include extras along with this gift.
Click here to see the latest price!
---
8. Radio Flyer Ziggle
If you are looking for a Fun Ride On Toy on a boy who is in Kindergarten the Radio Flyer Ziggle will make a great gift. This toy is not only fun for kids to use It helps kids build up leg muscles and they can go really fast and even turn 360s which they find tons of fun. Kids will be excited to see this gift under the tree or receive it as spring or summer birthday gift.
Click here to see the latest price!
---
9. Monkey Bar Climbing Tower
If you are looking for a great outdoor gift to give a five year old then this Jungle Gym is a great gift. Not only do monkey bars help children build gross motor skills, climbing is a fun activity for children. Best of all this is a gift that will last the child for two or three years while providing them with a fun outdoor activity.
Click here to see the latest price!
---
10. Sidewalk Chalk
If you want to bring out the artist in a young child then gifting them some sidewalk chalk. This Big Box 136 Pieces of Sidewalk Chalk with 17 Colors will allow your child to use the entire driveway or sidewalk as their canvas and create all different types of art limited only by their imagination. Best of all this chalk washes off easily so the child can draw over and over again.
Click here to see the latest price!
---
11. Splash Pad
Not every family can afford a swimming pool and may not live close to a beach so giving a child this Splash Pad as a gift is a great way for them to have fun and cool off during those hot summer months. This inexpensive water toy is perfect for a summer birthday and will provide plenty of fun for the child and all of his friends.
Click here to see the latest price!
---
12. Animal Matching Game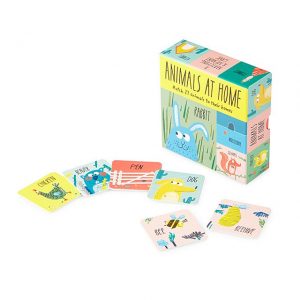 This Animal Matching Game makes a great gift for young boys since it helps them to develop their memory skills while at the same time teaching them about 27 different animals and their home. This is a perfect game to play with your young child during family game night for them to play with siblings or friends.
Click here to see the latest price!
---
5 Good Non-Toy Gifts for 5 Year Old Boys
1. Ferdinand The Bull
FerdinandTthe Bull is a great story book that any 5-years-old boy will enjoy. This story is ideal for parents to read to or with their child. A great story for all kids and adults can enjoy it as well.
Click here to see the latest price!
---
2. Dinosaur Night Light
Most young kids don't like sleeping in complete darkness so this Dinosaur Night Light is a cute way of providing light to chase away the darkness. The light changes to 7 different colors which will fire your child's imagination and allow them to sleep in a gently lighted room.
Click here to see the latest price!
---
3. Dinosaur Duvet and Pillowcase Set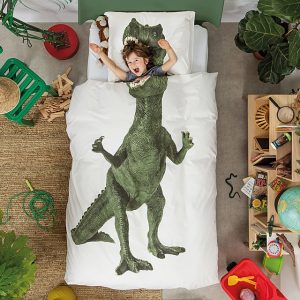 For any little boy who loves Dinosaurs this Bedding Set will capture their imagination and make them want to go to sleep at night. This bedding set is ideal for younger children and will fit into a dinosaur themed bedroom perfectly.
Click here to see the latest price!
---
4. Pants Set
This Timberland Pull Over Sweatshirt pant set makes a great gift for a young boy who has started school. This outfit is perfect for fall or winter wear and will help that little boy feel grown up in this cute little outfit. Great for both school and weekend wear.
Click here to see the latest price!
---
5. Boys Pajamas
No products found.
Younger boys can always use No products found. and these pajamas are really cute and come in a variety of different themes including a Christmas theme, train, fire truck, rocket ship and more. These pajamas are warm and comfortable and most kids will be thrilled to sleep in these adorable pajamas.
Click here to see the latest price!
---
What Are Unique Gift Ideas for 5 Year Old Boy Who Has Everything?
There are times when young boys already have a closet full of clothing they will soon outgrow and too many toys to really enjoy playing with everything they have so you don't want to give them another toy. So what do you give a little boy who seems to have everything they currently need or wants at this point in time. Here are a few suggestions that may help.
Buy A Slightly Larger Size in Clothing – 5 Yr olds outgrow or wear out their clothing very quickly so why not consider buying clothing in a size that is slightly larger so that they will be able to replace the clothing they outgrow or wear out.
Give Them A Special Day – Experience gifts are a huge hit with kids of all ages, because it gives them an opportunity to enjoy an activity that is something they don't get a chance to do everyday so why not give present them with tickets to a puppet or magic show, take them to the zoo, or arrange to spend a day with them on a farm? It will be a perfect gift and something that most children aren't likely to forget.
---
Related Gift Guides
---
Conclusion
It is our hope that this guide to the best gifts for 5 year old boys makes your birthday, Christmas, and other shopping occasions easier for you or at least serves as inspiration for helping you find the best toys and gifts for boys of this age.