At 4 year olds that little boy in your life is growing rapidly. He could grow about 4 inches in just the course of this one year. His gross motor skills have improved and he is talking in more and more complete sentences.
When purchasing toys and gifts ideas for 4 year old boys, look for fun and interesting stuff that will help them to continue to grow their budding skills while at the same time holding their interest. To make using this gift list as simple for you as possible we have divided this guide into 2 main sections.
Section 1: 10 Best toys for 4 year old boys
Section 2: 5 Best Non-toy gifts for 4 yr old boys
Helpful Tips for Choosing Great Gifts for 4 Year Old Boys
Boys aged 4 are very active and have a lot of energy to burn so make sure that they have toys that will allow them to stay active and to burn off all that energy so they can rest better at night.
At this age children grow quickly so when choosing clothes or shoes as a gift, it is best not to invest in expensive items, since they could outgrow it within a month or two.
Boys this age are still having some difficulty with their fine motor skills so try and choose some activities to help them improve those goals. Things that help to strengthen finger muscles or involve coloring, drawing, or working on forming letters and numbers.
---
11 Best Toys for 4 Year Old Boys
1. T-Ball Set
At this age many children show an interest in playing baseball or softball and T-ball is how most kids begin learning the came. This T-ball Set will allow you to give your child something they love while helping to improve their both their gross motor skills and their hand/eye coordination as well.
Click here to see the latest price!
---
2. LaScoota 2-in-1 Scooter
This LaScooter 2-in-1 Scooter is a great ride on toys for 4 year olds. This scooter comes with a removable seat so your child can use this scooter sitting down or like a regular scooter. The scooter also comes with flashing lights. The handlebars adjust to 4 different heights so this scooter will grow with your child.
Click here to see the latest price!
---
3. LeapFrog Scribble and Write Tablet
This LeapFrog Scribble and Write Tablet will help give your child an early start on Kindergarten by teaching them to correctly write their letters and their numbers 1-10. The tablet has two modes, one mode allows the child to simply try and follow the follow to correctly make their letters, while the second mode actually tells the child if they are making the letters correctly. This tablet does require 3AA batteries.
Click here to see the latest price!
---
4. Five Little Fishes Board Game
This Five Little Fishes Game is the perfect game for family game night with your little one. This game is made for younger children, but can be fun for the entire family. Turn over a lily pad and then try to catch the fish that matches the lily pad. While that little boy will be having fun with his family, he will also be developing hand/eye coordination by actually trying to pick up the fish with the rod.
Click here to see the latest price!
---
5. Lego Creative Brick Box
Turn that little boy imagination free while also giving him a fun building kit that will help him develop his fine motor and problem solving skills. Unlike a Lego kit where the child can only build one or two items based on the pieces given, this Lego Brick Box of 790 pieces will give your child unlimited building possibilities. There are pieces to build buildings, vehicles, or anything else your child wants by himself or with friends or other family members.
Click here to see the latest price!
---
6. Play Foam
This Play Foam is a great material for young children. All they need to do is to squish it together and then form it into any shape they want then they can squish the foam down again to make something new. This foam does not dry out so it can be used over and over again. Working the foam will help strengthen your child's fingers and hands, improving their grip and helping them develop fine motor skills. While this play foam will be great as a gift anytime, it would be perfect in your child's Easter Basket or as a Stocking stuffer.
Click here to see the latest price!
---
7. Pull Back Vehicles
No products found.
What young child doesn't love vehicles, and these No products found. will allow you child to play by himself or with others. You child will love racing these cars against one another to see which ones go the furthest. A great little stocking stuffer or Easter Basket gift for any young boy on your shopping list.
Click here to see the latest price!
---
8. Build It Blueprint Puzzles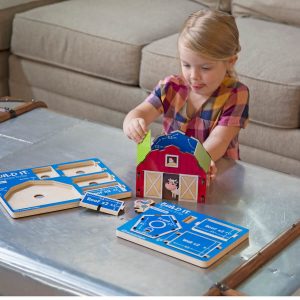 View Product on Fat Brain Toys
Puzzles are a great toy for children and help them to build logical thinking skills. These Blueprint Puzzle Kits are perfect for helping children learn to follow directions and improve their logical thinking. You can choose between a barn, birdhouse, cabin or dog house. Made from wood materials one or all of these puzzles will make great gifts for any young boy on your shopping list.
Click here to see the latest price!
---
9. Doggy Croquet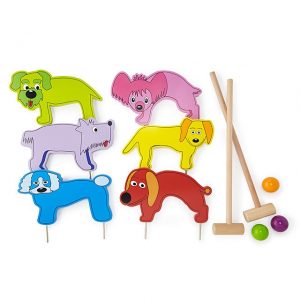 A fun outdoor game for those young boys on your shopping list this Doggy Croquet Game features 6 dogs, two balls, and two mallets. Kids will love trying to hit the ball under the dogs bellies and it will help to improve both hand/eye coordination and get your child outside in the fresh air with a fun and interesting game.
Click here to see the latest price!
---
10. Playmobil Fire Truck with Ladder Unit
Most little boys love fire trucks and this Playmobil Fire Truck with Ladde is great fun for any young boy. This truck comes with functioning lights and sounds (You do need 2AAA batteries) The set comes with the ladder truck, 3 figures, some cones, shovels, fire extinguishers and other accessories to make playtime with this truck more fun. Best of all you can use it indoors or out in the sand box and it is compatible with other Playmobil play sets.
Click here to see the latest price!
---
11. Rocket Ship Play Tent
Let your child's imagination soar through the solar system with this Adorable Rocket Ship Play Tent . It comes with a space torch projector that has 24 space images that allows your child to really get into space adventures. This tent can be placed inside or out and kids can play inside with one of their friends.
Click here to see the latest price!
---
5 Best Non-Toy Gift Ideas for 4 Year Old Boys
1. Mountain Night Light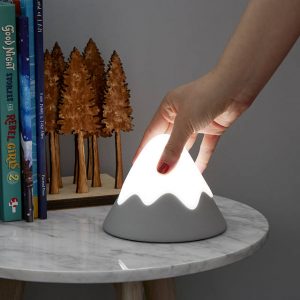 Give your child the comfort of having a little glow of light in their room at bedtime with this Cute Little Mountain Night Light. It doesn't need batteries or operate using a cord, but it does need to be recharged for at least 4 hours to bring it up to full power.
Click here to see the latest price!
---
2. Clothing Set
No products found.
A great gift for a spring or summer birthday this No products found. makes a great gift for any little boy. This is a great outfit for the simple reason that it is good quality, has vibrant colors and isn't too expect for clothing that the young boy will outgrow before they can wear out.
Click here to see the latest price!
---
3. The Grumpy Monkey Storybook
This Grumpy Monkey Book makes a great gift for young boys as it teaches them that their feelings are valid whatever those feelings happen to be. The story is meaningful, the illustrations and fun and it is a great book to help children begin to read.
Click here to see the latest price!
---
4. Table and Chairs
Whether children are coloring, drawing, reading or playing with toys they feel much more comfortable when they have furniture this matches their size. This Table and Chair Set will make a great Christmas or Birthday gift and will provide your child with a play to play or work for at least a couple of years.
Click here to see the latest price!
---
5. Kids Fishing Rod and Reel
Giving a small child their First Real Fishing Rod for catching fish can be an excellent gift for any young boy. The joy on a child's face when they catch their first fish will be well worth every penny you spend on this gift.
Click here to see the latest price!
---
What Do You Give A Boy for His 4th Birthday Who Has Everything?
Does that young boy in your life have too many toys to keep in their room? Is their closet full of clothes they will soon outgrow? If so, then here are some suggestions of alternate gifts you give your son.
By Larger Size of Clothing for the Next Season – Young boys grow fast and so by the time that winter turns to spring or summer the clothes in their closet often no longer fit them, so buying an outfit that will fit them by the time the next season comes around will make a great gift and save the parents a little bit of money.
Consider an Add on to a Toy the Child Already Has – You don't always have to purchase a brand new toy. You can buy something that accompanies a toy they already own in order to make that old toy seem new again. For example, if the child has a building block set then consider giving them little figurines to go with their building set or add on block so they can make their creations larger.
Give Them an Experience – Young children are just discovering the world so providing them with a fun and exciting experience makes a great gift. Take them to butterfly garden or a wild animal rehab or anything else you think the child will really enjoy.
---
Related Gift Guides
---
Conclusion
We hope that this guide will help you choose the best gift for the 4 year old boy in your life or at least help you gain some inspiration of your own.