Parent want to find and purchase toys and gifts for their young children that are both fun and help them to develop the necessary skills to give them a good start on their educational development. Ontel's Magic Pad Light Up Drawing Board gives parents what they are looking for with a toy that helps to develop your fine motor skills without falling short on the fun factor!
This review will take an in-depth look at both the original Magic Pad and the Magic Pad Deluxe.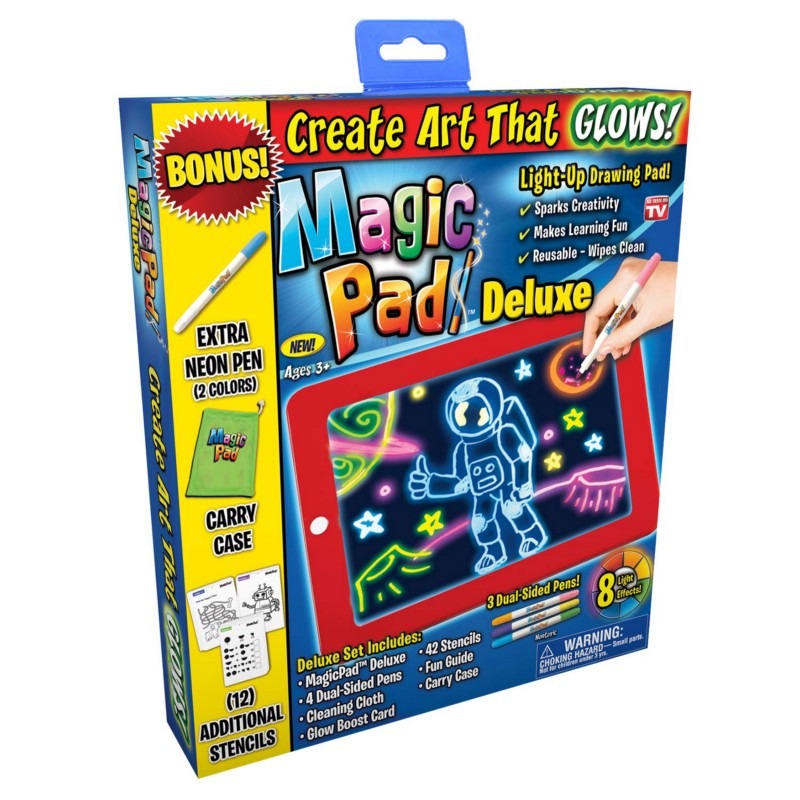 The original Magic Pad is a drawing / tracing pad with a built in easel display frame that allows your child to create their own art and then light it up using one of the 8 LED lighting choices.
The Magic Pad, as the "As Seen on TV" commercial points out does not use crayons that can get broken and leaves behind no mess for the child or parent to clean up. In addition, parents don't need to keep drawing paper on hand either because this toy can be cleaned and used over and over again. It does however require 3 AAA batteries which are not included with your purchase.
This toy is recommended for children ages 3 years and up.
What's in The Box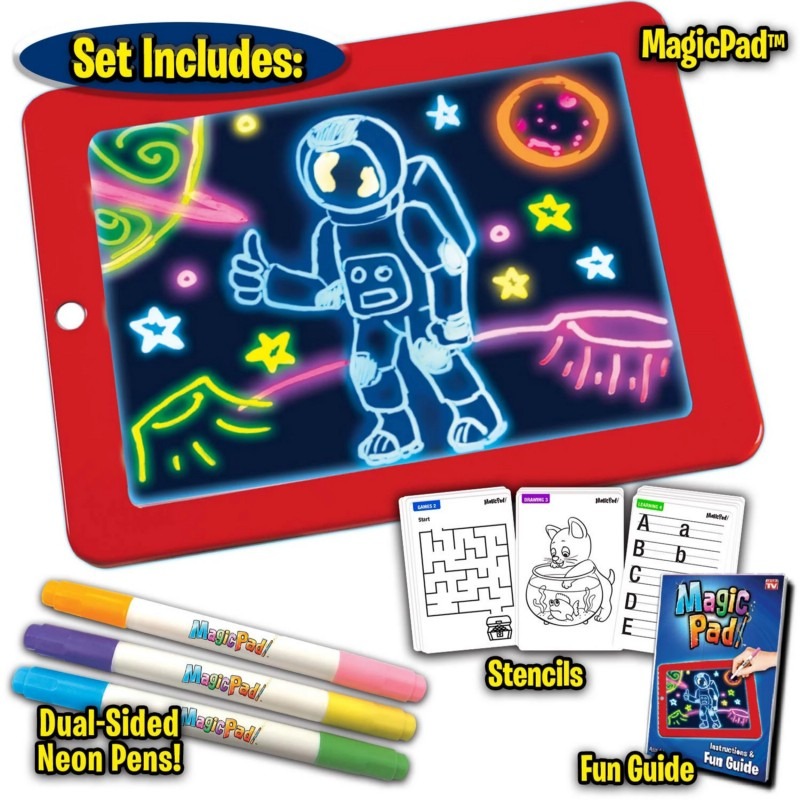 When you purchase the Magic Pad you will find the following in the box.
Unique clear drawing screen and surrounding frame
3 dual sided markers
30 insert drawing/tracing cards
Black background piece
Cleaning cloth
Fun Guide
About the Frame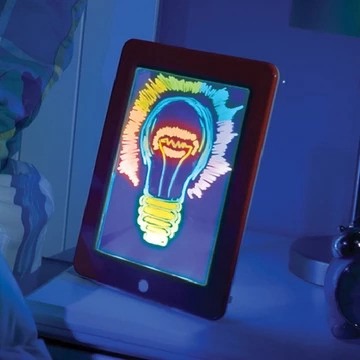 The frame for the Magic drawing pad is unique and designed to keep everything neatly together. When you turn it over over you will see slots to store the three markers when they are not being used. There is also place for storing the cleaning cloth.
In addition, there are two suction cups at the top of the pad, so your child can display their art work on the refrigerator, a wall, window or wherever they wish. In addition there is a pull out stand so that the art work can be displayed on a stand or deck.
About the Insert Cards
Although the box and all of the advertisements for this magic glow pad state there are 30 insert cards there are actually only 15 cards, but they are double-sided making a total of 30 activities. These activities include: 10 pictures to trace and add your own elements to. Some of them include pictures where you trace half and then free draw the other half. There are also word searches, mazes, a tic tac toe game page, shapes to trace, numbers (as well as space for trying to write your own next to the traced number.) Both capital and lower case alphabet letters, and a page of basic addition and subtraction. All of these cards make this toy highly educational and help to prepare your little one for starting school.
Portability
Since the Magic Pad is portable this is a great toy to take along to keep your child entertained on road trips, while waiting for food at a restaurant, or when waiting your turn in the doctor's office.
It should be noted that the LED lights are designed to work for 10,000 hours.
Special Double Magic Pad Offer
Ontel typically offers two complete set for the price of one plus an additional $5.99 shipping charge for the second pad through the website www.buymagicpad.com. This could be a great deal if you are looking to buy the Magic Pad for two children instead of just one!
Pros and Cons
Ratings for this toy are good, and below we have pointed out a few positive things about it as well as a few less than desirable things.
Pros
Using this pad will help your child develop fine motor skills and hand / eye coordination.
Kids love drawing or tracing and watching their art work light up
Children learn how to recognize and draw various shapes
Children learn to recognize numbers and write them
Children learn how to recognize their alphabet
Parents can work with their child to help them learn the letter sounds
Older children can use it to practice basic addition and subtraction
Light up pad can be used as a night light
Grows with your child
Cons
The screen is harder to wipe off than it looks
Markers run out of color faster than parents
You'll need to purchase replacement markers on an ongoing basis
Magic Pad Deluxe Review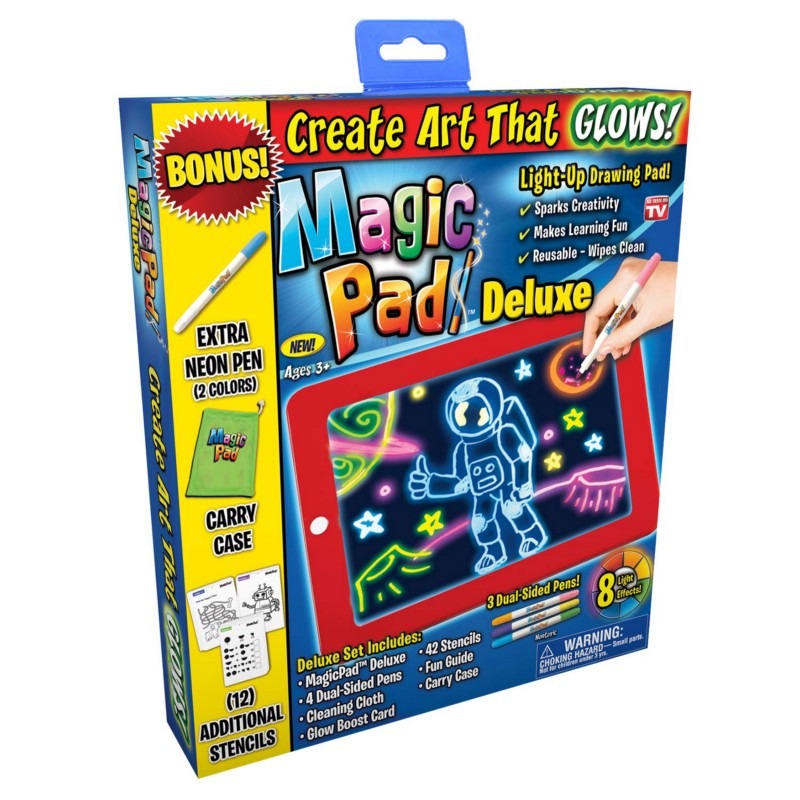 The Magic Pad Deluxe is the same as original version with a few extras. These extras include an additional dual sided pen adding more colors for children to enjoy and also 6 more double-sided cards.
To recap again, as with the 1st version this Deluxe version is a light up drawing / tracing pad inside of a frame that allows your child to trace pictures, play games, practice writing numbers,the alphabet and work on puzzles.
While most of the As Seen on TV commercials are for the original pad the commercials still explain all of the functions of the Deluxe version with the exception of the amount of pens and insert cards that you receive in the Deluxe version.
The deluxe lighting pad also requires 3 AAA batteries and those batteries are not included.
This is designed for children ages 3 years and up.
What's in the Box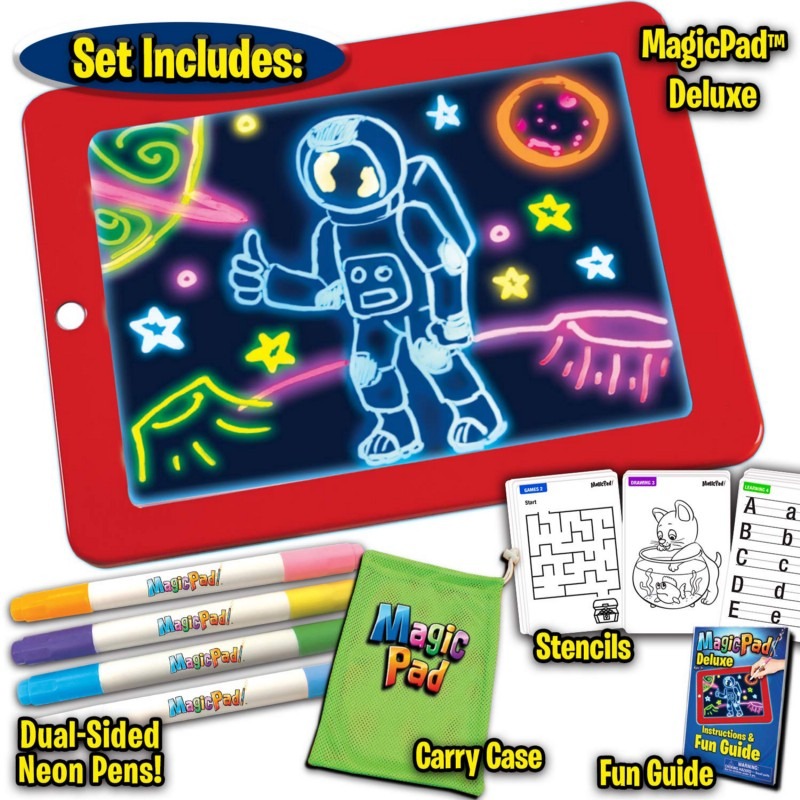 Clear screen with frame drawing pad
4 dual sided markers
Dry eraser
Glow booster card
42 stencils
Carrying case
Fun guide
About the Frame of the MagicPad Deluxe
The frame of the Deluxe version is the same as frame of the original pad with the exception that there is space for the additional pen to be stored on the back to.
There are again 2 suction cups on the back of the frame so that your child's art work can be placed on the refrigerator or other appliances. The frame also features an easel back stand so art work can be displayed on a stand or dresser and be used as a night light.
About the Insert Cards
The deluxe version of this toy is advertised as coming with 42 insert cards, but it actually comes with 21 double-sided cards giving your child 12 additional activities that are not included in the original version.
The LED lights are what really captures your child's attention and imagination with this toy. There are 8 different light up options. A fun guide comes with it and tells you how many times you need to press the button to get the lighting option you want.
Pros and Cons
Like the original, the Deluxe version offers several benefits for your child and also has a few features that leave something to be desired. Overall buyer give it a pretty good rating.
Pros
When listing the pros for this drawing pad, we have listed some obvious benefits that we feel most of the reviews have completely overlooked.
Provides your child with hours of drawing fun
Helps your child to develop their fine motor skills which are needed for writing and other educational activities
Can be used to teach children the names of shapes and how to draw them
Helps your child learn number recognition
Helps your child with letter recognition
Encourages concentration as your child works through the mazes
This is a toy that grows with your child
Cons
Parents state that the dry eraser does not clean the drawing board well
Drawing markers dry out rather quickly
Can become scratched fairly easily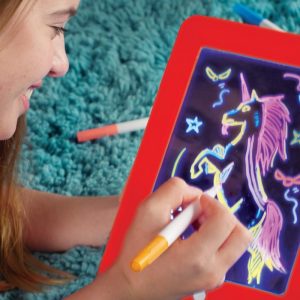 Buying Guide
As Seen On TV Commercial
Magic Pad Accessories
If you're interested in additional accessories you can get them at www.magicpadstore.com.
These accessories include:
A Red Deluxe MagicPad with 33% brighter lights
Set of 3 replacement markers (pink/green, orange/yellow and blue/green)
Set of 3 Neon Markers (pink/green, Light orange/darker orange and blue/turquoise)
Independent Video Review
FAQ
Q. What is a Light up Tracing Pad?
A. It is simply a clear erasable tracing pad made to be used with inserts which are to be traced or free hand drawing. Once completed kids can light up their drawing for a fun effect.
Q. Where Can I Buy Magic Pad Drawing Pad?
A. There are a number of stores that sell the As Seen on TV Magic Pad such as Target and Walmart. You can also find the Magic Pad Deluxe on Amazon or buy from the site www.buymagicpad.com.
Q. Is there Anywhere Where I Can Find MagicPad Replacement Pens?
A. You can find replacement pens at www.magicpadstore.com.
Q. What Age is the MagicPad Best For?
A. This glow board is designed for children 3 years and up, but there are even adults who use it as a message board.
Q. What Size is the Drawing Board?
A. The drawing board with the frame measures 9.5 inches by 7 inches. The actual drawing pad without the frame is 5 ¼ inches by 7 inches.
Q. Does this Drawing Board Require Batteries?
A. Yes, you need batteries to operate the LED lights. It takes 3 AAA batteries.
Q. Is Everything You Need to Use this Toy Included in the Box?
A. With the exception of the 3 AAA batteries everything you need comes right with your purchase.
Q. How Long Do the Lights for this Drawing Pad Last?
A. The lights are designed to last about 10,000 hours.
Q. If I Purchase the Magic Pad and Don't Like it Can I Return it?
A. Yes it comes with a 60 day money back guarantee.
About The Company Behind This Toy
The Magic Pad is manufactured by Ontel who has been manufacturing products for over two decades. This company manufactures a variety of different products designed to make life more convenient, fun and healthier. Their products include household products, exercise equipment and toys.
The name Ontel is a hint to this company's main advertising strategy, which is to jump start the sale of all their new products through television commercials. You'll see the mention of "As Seen on TV" on all of their products.
All of their products are sold through various Brick and Mortar stores as well as online stores such as Amazon and through Ontel's own sites. Ontel typically sells each one of their individual products on sites devoted to each single product and also has a website lists all the companies products.
To take advantage of Magic Pad's Buy 1 Get 1 Free Offer visit www.buymagicpad.com.
If you need to buy additional accessories, replacements markers or other parts you can visit www.magicpadstore.com.
Customer Service
If you want to check on the progress of your order or need to get authorization to carry out a return then you can call Magic Pad's customer service at 1–800–203–1445 or send them an email at Magicpad@rehelpdesk.com.
Shipping Information
When ordering directly from Magic Pad, all orders will be shipped within 30 days from the time your order is processed. Orders are shipped via the USPS or FedEx. Orders are subject to $7.99 shipping charge and orders over $35.00 get free shipping.
Return Policy
This toy comes with a 60 day money back guarantee.
Should you wish to initiate a return you need to get a return authorization number from customer service. You can call them at 1–800–203–1445. You should send your return via USPS and include your complete name, address, daytime phone number, email address and return authorization number inside your return package.
If you are looking for a mess free drawing pad that will light up your child's life you may want to consider the Ontel Magic Pad.