By the time most boys reach the age of 8 their fine and gross motor skills have developed a good deal, which allows them to enjoy activities that they found to be difficult in the past. It is at this age that most boys develop a real interest or disinterest in sports. They experience a widening interest in the world around them and are eager to explore new things.
Choosing gifts for 8 year old boys is fun and considering their wide variety of interests, but can sometimes be confusing. In this gift suggestion list we have taken care to choose highly rated toys and gifts covering a wide range of interests to help you choose the right gift for growing boys, regardless of what his interests may be.
We have divided the gifts in this guide into 3 sections.
---
Helpful Tips For Choosing Good Stuff for 8 Year Old Boys
Choose toys and gifts that allow boys of this age to use their developing motor skills. Building, coloring, sports oriented toys are all good choices for gifts.
Try and choose gifts that fuel curiosity and creativity as this will help children this age develop critical thinking and problem solving skills.
Don't forget that any toy you choose should have a fun factor to it, as children this age get bored quite easily.
Children of this age are much better at expressing their own interests and wants so listen to what they say and those activities they are most excited about.
---
10 Super Cool Toys for 8 Year Old Boys
1. Cardboard Cutting Tool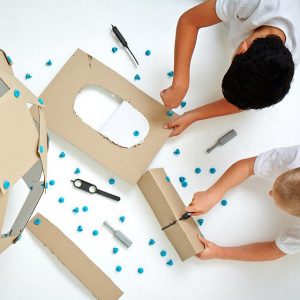 View Product on Uncommon Goods
Boys this age love making something out of nothing and see possibilities in materials that adults just can't imagine. Giving a boy these children friendly Cardboard Cutting Tools and fasteners will allow young boys to make some interesting toys and craft projects that are all their own ideas and designs. This is a great gift for encouraging creativity and open ended play.
Click here to see the latest price!
---
2. Frisbee Golf
A great outdoor game for kids (and adults) of all ages this Frisbee Golf Game is fun and interesting and makes a great gift for young boys who enjoy throwing and competitive games. This game can be played with friends or family members or your child can practice their skills on their own.
Click here to see the latest price!
---
3. Outdoor Explorer Kit
This Outdoor Exploration Kit is a great gift to encourage any 8 yr old to explore the outdoor world in which they live. With a compass, magnifying glass and binoculars young boys will learn to use some useful tools, while the net and various containers will allow them to capture bugs and examine them. The binoculars are perfect for checking out birds and other wildlife and the magnifying glass will allow for examining plants as well as bugs close up.
Click here to see the latest price!
---
4. Hexbug Robotic Battle
This 2 Pack of Robotic Spiders are a fun way for an eight year old boy and your friend to stage a battle shooting infrared lasers at each other, the first person who shoots the other one ten times wins the game. This is a great game for any child who loves technology and playing with their friends.
Click here to see the latest price!
---
5. Crazy Forts
The Crazy Forts Building Set will allow your child to build different types structures from rocket ships to igloos and forts by putting together the frames and then covering it up with an old sheet or other material. This crazy fort will allow your child to let their imagination and their creativity flow freely.
This fort building kit can be used inside or out.
Click here to see the latest price!
---
6. Lego Creator Mighty Dinosaurs
Legos seem to be the most common type of building blocks kids use nowadays and this Lego Mighty Dinosaur Kit is ideal for boys of this age who enjoy building. This Lego kit also sharpens their skills at following directions and problem solving.
Click here to see the latest price!
---
7. Djubi Sling Ball
Outdoor games are fun for active 8 year boys and this Sling Ball Game is a great game to give as a gift since younger children will be able to play on equal footing with older boys. This new take on the age old game of catch is fun for anyone looking for a quick fun game to play with a friend.
Click here to see the latest price!
---
8. Suspend Game
The Suspend Balancing Game is a lot of fun for one to 4 people. Stack the various wires without throwing the stack off balance to win the game. This is a great game to help your child practice logic and problem solving. It also helps to improve concentration.
Click here to see the latest price!
---
9. Light Up Terrarium
A great way to encourage your child to have a little interest in science and to learn about growing things this Cute Little Light Up Terrarium makes a great gift for any eight year old who is interested in crafts of any type. Best of all when the project is done they have a great light up room decoration for their bedroom.
Click here to see the latest price!
---
10. Laser Controlled Race Car
This Laser Controlled Race Car is a great introduction to remote controlled cars and what a fun introduction it is. This car not only runs on the floor, but also will run up smooth walls. This car does take 3AAA batteries so make sure you include some with your gift or the boy you buy it for is sure to be disappointed that he won't be able to try out his car immediately.
Click here to see the latest price!
---
5 Excellent Non Toy Gifts for 8 Years Old Boys
1. Carhartt Boys Quilted Jacket
This Warm Winter Jacket has a ribbed hem and cuffs and is made to keep any growing boy warm while playing outside in the cold. This coat comes in a few different colors as well as choice of linings to help ensure any boys comfort.
Click here to see the latest price!
---
2. Comfortable Weighted Blanket
A weighted blanket provides children with a feeling of comfort and security while providing them with a better night's sleep. This Hugaroo Weighted Blanket is perfect for a younger boy's twin bed and will provide them with both warmth and comfort. Most boys will like the beautiful blue color of this blanket.
Click here to see the latest price!
---
3. Backpack and Lunch Box Combo
Many young children prefer to bring lunch from home rather than eat the lunches that the school provides. This Backpack Lunch Box Combo has everything your child will need for school work or lunch. This all in one backpack kit comes with the backpack, lunch box, water bottle, pencil case and keychain. The fun shark design is something that younger kids will love and will separate their backpack from others.
Click here to see the latest price!
---
4. Choose Your Own Adventure Book Set
Kid's love Choose Your Own Adventure Books , which allows them to read the same book over and over and get a new story each and every time. This abominable snowman book set contains 5 different stories each allowing your child to choose their own adventure.
Click here to see the latest price!
---
5. A Nice T-Shirt
T-Shirts are part of every young man's school and weekend wardrobe and these French Toast Long Sleeved T-shirts are reasonably priced and nice enough looking for both school and play. Best of all, with T-shirts priced this inexpensively you can gift the little man on your shopping list with 3 or 4 Tees in different colors.
Click here to see the latest price!
---
What to Get an 8 Year Old Boy Who Has Everything?
Some children have more toys and gifts than they need. They may have a plethora of presents under the Christmas tree or for their birthday that you know they won't play with or have time to use them all before they outgrow them. So here are some alternative suggestions for 8-year olds who have everything.
Why not purchase clothing for the next season or size – Boys of this age grow about 2.5 inches or a little more during this age and may gain between 3 and 10 pounds, which means that they can outgrow clothing pretty quickly. So instead of purchasing an outfit that fits them now, why not purchase the next size up and something they can wear for the next season.
Large See Through Piggy Bank – This is a good age to begin to teach children about saving money and a great way to do that is purchase them a large see through bank and put the first couple of dollars in coins in it. Then tell the child when they fill the bank, you'll help them start a savings account and take them out for a special outing of their choice.
Children will love seeing the bank fill up and may even negotiate doing more chores to earn money to put into their bank.
---
Related Gift Guides
---
Conclusion
We spent a ton of time researching and truly hope that this gift suggestion list will help you find some really great gifts for your 8 year old boy that he loves for either his 8th birthday or Christmas!