7 Year old boys are either in the last half of first grade or just starting second grade and are at an age where they enjoy engaging in imaginative play as well as bit of rough and tumble play. They are just getting the hang of primary school and are eager to engage in both group and independent activities.
At this age they are still quite dependent on their parents and enjoy spending time involved in family activities. Toys and gifts for children who are seven should be fun and engaging, help them to learn new skills and improve on those skills they already have.
To make choosing the right gift easier for you we have divided this guide into three sections. These sections include the following:
Section 1 – The top toys for 7 yr old boys
Section 2 – Non-toy gift ideas for boys of this age
Section 3 – Alternative gifts to give a 7 year old boy who already has everything
We have chosen stuff, based on general interest and high ratings making sure each toy on our gift list has a high fun factor as well as providing opportunities for learning.
Helpful Tips for Choosing Good Gifts for 7 Year Old Boys
If you are not sure what gifts to buy for a 7 year old here are some tips that will help guide you to choosing appropriate things for a child of this age.
Consider each child's individual development. Children of this age develop both physically and emotionally at varying rates. When choosing gifts for children of this age choose those gifts that interest a child at the stage he is at, while helping him to continue to develop both physically and cognitively.
When Choosing toys for a 7th birthday don't ignore the fun factor.
Select toys that your child can play with by themselves as well as with others.
Choose activities that allow for both inside and outside play.
---
Best Toys for 7 Year Old Boys
1. Playmobil Adventure Tree House
As a first or second grader kids of this age are still very much into pretend play and this Playmobil Adventure Tree House Set is the perfect gift to fire a child's imagination and allow them to engage in hours of imaginative play.
This play set has everything a young child will need to have their own wilderness adventure in the safety of their own home. The set comes complete with a couple of people, A tree house cabin, assorted wild animals, fishing pole, a cooler and so much more.
Best of all this set can be played with as a stand alone set or combined with other Playmobil sets for even more imaginative play.
Click here to see the latest price!
---
2. Suspend Game
Suspend is a fun game for younger children and helps them develop hand/eye coordination and cognitive thinking skills as they try and hang wires without tipping over the game. Kids will develop their critical thinking skills as they try and figure out just how to hang each wire and keep everything balanced. It is a fun game for your child to play with family or friends and they can certainly practice this game on their own.
Click here to see the latest price!
---
3. Bike
What seven year old boy doesn't want a two wheel bike of his own? This Guardian Kid's Bike is a great bike for kids of this age and makes the perfect gift for any child who wants a bike of their own. When purchasing a bike as a gift for a child make sure to also present them with a helmet for safer riding.
Click here to see the latest price!
---
4. Stomp Rocket Party Pack
If you are looking for a great gift to get a young boy out of doors and actively playing then the Stomp Rocket Party Pack should do the trick. This stomp rocket sets allows up to 5 kids all play at the same time making this a great gift for children who want to play with siblings or friends. Kids love seeing how high they can get the rockets to fly.
Click here to see the latest price!
---
5. Build and Paint Wooden Cars
The Build and Paint Wooden Car Set is a perfect gift for unleashing a young child's creativity. Children love the idea of "making" a toy they can actually play with these build and paint cars fit the bill. These cars come in a set of 3 and the kit has everything included your child needs to finish the project and play with their wooden cars. It is a simple toy that provides children with hours worth of entertainment.
Click here to see the latest price!
---
6. Fold and Fly Paper Plane Kit
The Fold and Fly Paper Plane Kit is a great gift for any young child who loves making paper planes. There are 18 planes in this kit and each plane is colourful and designed to fly well. Kids will enjoy making and flying these planes on their own or with friends.
Click here to see the latest price!
---
7. Art Library
This All In One Craft Kit is great for kids who love creating things from their own imagination. The kit contains a variety of supplies including pipe cleaner, wooden sticks and disks, dowels, pom poms, felt and much more. It's a fun kit and your kids will love using this kit alone and with others. What is really nice about this kit is the box it comes in is divided to keep all of the supplies organized.
Click here to see the latest price!
---
8. Stem Building Toy
Building toys are great for young boys of this age and this STEM Building Kit will allow any child to build a number of cool vehicles including a plane, helicopter, motorcycle, car, etc. Once your child has built his toy he can then play with them. Toys can be built, modified, or dismantled and a new toy built since the pieces of this kit are durable. Comes with tools for building.
Click here to see the latest price!
---
9. Bounty Hunter Junior. Metal Detector
If you are looking for a gift to get a young boy outdoors and away from those computer games then using this Bounty Hunter Metal Detector to do a bit of treasure hunting is the perfect gift. Small enough for young children can hold most kids will enjoy hearing this metal detector alert them to possible treasure where they can then dig to discover what is buried in the ground. Kids will love using this metal detector at home or at the beach and searching for treasures of all kinds.
Click here to see the latest price!
---
10. Super Hero Figurines
If you know a first or second grader that is interested in superheroes like Batman and Superman, this Superhero Duo Figurine Set will be a great gift to open up their imaginative play. The figures can be posed for more realistic play and these two heroes save the world from all of the bad guys. Tons of fun for imaginative kids giving them plenty of opportunities to engage in their own style of imaginative play.
Click here to see the latest price!
---
11. Sno Art Kit
Kids who play in their yard in the winter may benefit from the fresh cold air, but playing entirely in a white world can easily become boring. This Sno Art Kit will allow young children to add a bit of color to their snow creations. The kit comes with 3 colours and two molds.
Click here to see the latest price!
---
Top 5 Non-Toy Gift Ideas for 7 Year Olds Boys
1. The BoxCar Children Book Set
The Adventures of the BoxCar Children has been beloved for many generations and is a great book for children of this age. These stories are sure to grab and hold a young child's interest and encourage them to read thus improving their reading skills. This book set will make a great Christmas or Birthday gift for any young child and it is a great way for parents and child to bond while reading to each other.
Click here to see the latest price!
---
2. Dinosaur 3D Night Light
Many children this age still don't like to sleep in completely dark rooms, so having a cute, but effective night light that adds a little brightness during the dark of the night will be a gift that many young boys appreciate and t his Dinosaur Night Light adds a cool touch to their bedroom without looking babyish.
Click here to see the latest price!
---
3. Snow Pants
Children this age grow fast, but need to keep warm when engaging in outdoor winter activities. These Bib Style Snow Pants will help keep your child warm and dry when spending time out of doors. Giving these snow pants as a gift may not be a glamorous gift, but the young man in your life will enjoy being warm and cozy during those cold winter months.
Click here to see the latest price!
---
4. Pull Over Sweater
School clothes are always a good non-toy gift for any school age child and this Cute and Warm Pullover Sweater is ideal for keeping a 7 year old warm in those chilly classrooms during the fall and winter months. This sweater is also nice enough to wear to church and family outings as well and can be machine washed.
Click here to see the latest price!
---
5. Toothbrush Cup with Built in Timer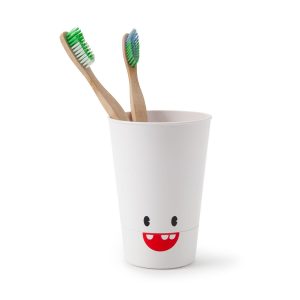 Young children often need to be reminded to brush their teeth and even when they do brush they don't know how long they should brush their teeth for, but this Toothbrush Cup with Built-in Timer will not only let your child know how long to brush their teeth, but may actually make brushing their teeth more fun.
Click here to see the latest price!
---
What Are Unique Gift Ideas for a 7 Year Old Boy Who Already Has Everything?
Sometimes children just have too many "things" and while you want to give that child of 7 a gift you may feel reluctant to add to the clutter in his room or his closet. If you find yourself in this type of situation and are looking for some alternative gift ideas to give a child who currently has everything here are a few ideas.
Give the Child the Gift of Nature – Children of this age are curious about nature so why not give them an up close and personal experience with nature such as taking them to a butterfly house, a petting zoo, or a fish hatchery where they can learn about various animals or insects and may even be able to touch, pet or feed them. You can even take pictures of the event and make the child a small memory book of this special occasion.
Activity Pass – Giving an activity pass to the child and his family also can make a great gift for any younger child. Places that offer bounce houses, Large ball pits, climbing walls for younger children or an introduction tumbling or music class also can make a great gift that the child will remember and cherish.
---
Related Gift Guides
---
Conclusion
There are literally hundreds of gifts to choose from to give a child of this age, which can make shopping for gifts overwhelming. It is our hope that the gifts on this list will help to make your shopping experience easier and simpler and still allow you to give that 7 year old boy a gift they will love.