The Dream Tents As Seen on TV product can be remarkably fun for kids to play with. To discover more about what these play tents have to offer, you can read through this detailed review.
Your child can use these tents as a way to fall asleep easier at night. They're also able to play with more imagination and be highly creative for hours while inside the tent. You can find out exactly what makes these items to exciting to play with, as well as more about the company to ensure you're able to feel more confident about the type of tent to choose.
Dream Tents Review
---
One of the main features that makes these tents stand out is that they come with stars that light up and they've been included as decoration. the light up feature provides them with a fantastic glow in the dark aspect that children have been loving. It means that you can turn all the lights off and still be able to see a dim glow in the room.
We found this to be an excellent benefit for kids who are struggling to sleep at night. It's common for children to be afraid of the dark. However, if the problem gets too bad, it can lead to poor sleep quality. Using these tents and taking advantage of the glow in the dark star decorations is great for giving your child enough light to not be scared, but not too much to keep them wide awake either.
Over time, you may find that these star light up decorations can encourage your child to be more comfortable in the dark. Another feature that you can use to help your child sleep better at night includes the reading light.
This reading light can be used to make the star decorations glow brighter which adds a more fantastical element to the tent. It can inspire kids to be creative with how they play inside the tent.
The light also comes in handy when it comes to reading books at night. You can switch the lights off in your child's room and they can sit in the tent, using the flashlight to read books. Since the main lights are off, you can be sure that your children will become tired quickly while reading and be able to have a quality night's sleep.
Not to mention, the idea of reading a book with the lights off and using the light makes reading more exciting. Therefore, kids often feel encouraged to read more, which is always a great benefit! The light is detachable and can be used freely to allow children to use it in their creative games as well.
To ensure that the tent is easy for parents to use, it comes with a folding feature. As a result, you can easily fold the entire item up to make it much more compact. This enables you to put it away into storage without having to take up a lot of space. In addition to this, folding the product up and packing it in a bag to use at different places while you're traveling can be very handy.
For example, if you were on a long road trip and stopped off at a hotel, you could use the tent to help your child feel more comfortable with sleeping in a bed that isn't theirs.
While traveling with the item, you can also be sure that it will remain durable. This is because they've used high quality materials to make it. The item can withstand being packed and used while on the move. It also means that kids won't be able to damage it easily so that it lasts for longer.
People have been impressed with how these Dream Tents are available in a wide selection of colors and designs. Therefore, you can feel confident in being able to pick one for your son or daughter. There are excellent designs that both boys and girls can have fun with, so you don't have to feel like you need to pick a specific one for your child. You can involve them in the buying process to ensure they're able to play with the type of design that appeals to them the most.
Their superb designs include the following:
Superhero
Magical Mermaid
Frozen Fantasy
Dino Island
Underwater World
Space Explorer
Winter Wonderland
Unicorn Fantasy
Paw Patrol
Space Adventure
As you can see, there are plenty of designs available that your children can have a lot of fun with. We liked how they always seem to be coming out with inventive designs. Therefore, you'll want to keep an eye out for any new designs that they come out with as they could take your child's fancy.
These designs have been made i a way to ensure that your child's creative thinking skills are stimulated. With the Space Adventure item, for example, boys and girls can pretend to be astronauts and have a ton of fun role playing and putting their imaginative thinking side to good use.
Pros
Can be used for full size beds
Directions for setup are easy to follow
Private space for kids to have fun
Cons
Beds against the wall need to pulled away from it
Materials aren't machine washable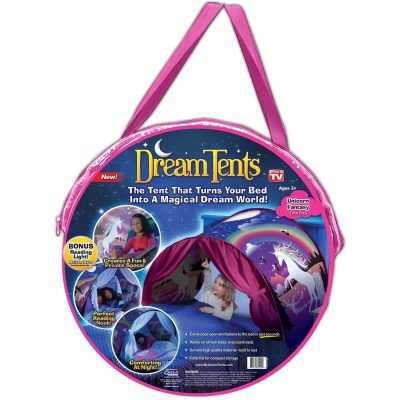 ---
Official Dream Tents Commercial
---
Buying Guide To The DreamTents
After reading through our review of what these products have to offer and the kinds of benefits that your child can experience while playing with them, you can use this part of the review to discover more about the brand.
We've included details surrounding how exactly to set up the tent, where it can be purchased, and more about the brand itself.
---
Shipping & Customer Service
When you place an order on their website, you'll receive a confirmation email. Once you've got this confirmation email, the item will be shipped out to you within 30 day via Fed Ex Smart Post. The minimum age requirement to be able to make an order is 18 and over.
Customers like how they're able to keep an eye on their package by using the tracking feature. Since the 30 day window is pretty long, this can provide you with a peace of mind in knowing where your delivery is and that it's on its way to you.
If you had any problems with your delivery or you had any questions, you can contact the customer service team on 800–882–1334. Once you're through, you'll be able to speak to very friendly customer service team members who can help you with anything you need. You're also able to contact the company be email at any time by sending your queries to dreamtents@rehelpdesk.com.
---
Returns
After the day that the package arrives at your address, you're given a 60 day time window in which you can return the product for your money back. Therefore, if you find that you're not 100% satisfied with the item, you can have it returned for a full refund within 2 months. This is a good amount of time for your child to play with the item and decide whether it's worth keeping or returning.
In order to have the product returned, an authorization number is required. To obtain this, you can contact the friendly customer service team and they'll provide you with all the specific details.
Your full name, home address, email address, and phone number will also be needed when returning packages by using USPS.
---
Frequently Asked Questions
What Are Dream Tents?
They're mini tents that you can use indoors and have them set up around your child's bed right above their upper body area. Kids are able to either lay down or sit up in bed while being underneath the tent and have fun playing creatively with the different themes, reading, or simply looking at the glow up stars and falling asleep.
Where to Buy Dream Tents?
You can find the product on the mydreamtents.com official website. On their site, you're able to see all of the latest designs and pick the one that stands out to you as being the best for your child.
You can also find them on Amazon as get the benefit of a trusted retailer and no hassle returns.
How to Get Your Free Light?
Some customers have been disappointed to find that the reading light isn't included with the delivery. This is because the light is an add on item that you'll need to request to receive along with the tent. It's free of charge but you'll be charged for handling and delivery of the light.
What Size Do Kids Dream Tents Come In?
All of these items are the same size, regardless of the design that you choose. They're measure up to 0.55 x 19.5 x 19.5″ when they're completely put together which makes Dream Tents for full size beds great. Furthermore, you can have an easy time when it comes to setting it up on twin, queen size, and even bunk beds.
How to Set Up a Dream Tent?
When it product is delivered, it comes in a completely flat state. So, you'll need to unfold it and use the hooks to connect the tent with the edges of the bed. Be sure to set it up around the area where your child will be sleeping so that they can feel completely immersed.
A helpful instructional booklet is included which makes it easy for you to follow the steps and have the tent set up without too much hassle. You can also find tips on the best areas to place the hooks to ensure that the item remains secure before you let your child get underneath it.
Since it has an easy folding feature, you can collapse it down in the morning after your child has woken up. It can then be placed somewhere in storage, such as a cupboard or under the bed, until it's bedtime and your child wants to have it set up.
How Many Glow in the Dark Stickers Are Available?
The standard item comes with a good selection of stickers that glow in the dark. You're also given the option to purchase more from the site which can be handy if you lose some or your kids want to decorate their tent with more.
What Brand Sells the Dream Tents?
The product is sold by Ontel, a brand that specializes in direct marketing through the As Seen On TV network and has produced other winners in the toy space including both the Magic Tracks and Magic Pad.
---
Conclusions on My DreamTents
Kids are able to expand their imagination when playing with these items. They're also excellent for inspiring them to have more fun reading and being able to sleep easier at night. There are a fantastic range of designs included which makes these products making very exciting gifts for both boys and girls to play with.
Now that you've had the chance to read through the review of these tents, you'll be left with a better sense of their features and benefits. Not to mention, you've now gained more details about the brand to ensure that you're able to be more assured about making a purchase.