Have you seen Magic Tracks Race Tracks Sets reviews and commercials and become interested in what they are? If so, you're in the right place since we've put together a review that covers what they are, all of the details surrounding the brand behind them, as well as the common questions that customers typically have.
After reading through our review, you'll be left feeling more assured of the types of glow in the dark toy race track sets that this company manufactures, as well as more details about the brand itself.
Review of Magic Tracks
---
What is Magic Tracks?
The Magic Tracks are a line of race track toys for children with a bunch of fun and unique designs. They come with a fantastic flexible feature and also glow-in-the-dark.
As a result, children are provided with the freedom to be more creative when it comes to assembling their track. They can make different kinds of tracks and have fun with the construction process. This means that each time they play with the race track set they can make a totally new track design, meaning a new experience every single time.
We liked how the car tracks pieces across all of their sets included an easy snap together feature. This ensures that children can have an easy time with assembling the separate pieces together. They can even change their track design while the toy car is still moving around the track which can be a fun challenge!
Another one of the other standout features surrounding the tracks on offer by this brand is that the pieces have the glow in the dark feature, as mentioned above. This is excellent for enabling kids to have an even more unique playing experience.
There are a range of neon track pieces available with each set that look amazing. Parents have been liking how they can take advantage of the light up feature to encourage kids to play with the set at bedtime. You can have the lights turned off while they're playing to get them sleepier and ready for bed.
In addition to this, they offer a range of vehicle toys as well. They come with electric motors that children can easily turn on and watch how they speed around the track that they've built. To enhance the exciting features even further, the vehicle toys come with built in LED lights.
This enables them to shine brightly while whizzing around the track. So, you can expect your kids to have a lot of fun observing their Magic Track cars race around the track.
These are all excellent features that can keep kids engaged for hours of play. They can also have multiple car toys running on the same track which can be super fun for your child to use when playing with family and friends.
Parents have been loving how the finished track can be put away into storage without any hassle. This is due to how you're able to simply roll the track up into a more compact shape to pick up and pack away when your child is done playing with it. So, you can save on floor space and simply unroll the track back out when your child want to play again.
This feature also makes it easier for kids to pack up their track set into a bag to play with it a friend or family member's house.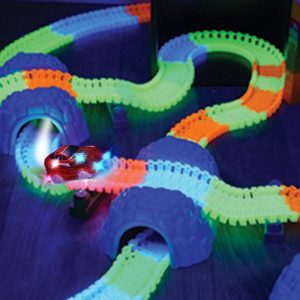 ---
What Are The Different Types of Magic Track Sets?
The company has a good variety of Magic Trax sets to choose from including regular sets, rescue sets, crash sets, race car set, Xtreme Sets, Mega Sets and RC sets. These are awesome for enabling your child to have different kinds of sets to build and play with. Below, you can get a better as to what these tracks are and the differences between them.
Rescue Sets
The rescue sets include both a police car and fire engine to helping that allow kids to imagine they are saving a racer in distress by zooming the fire truck and police cruiser to an accident on the race track.
No products found.
Crash Sets
The crash sets by this brand are incredibly fun for children to play with in groups with family and friends. This is because they come with track pieces where kids can design it in a way so that the toy vehicles can crash into each other at an intersection. They can start their toy cars at opposite ends of the track and watch how they crash into each other or make narrow misses.
In addition to this, these sets come with wall pieces that kids can place along the track for their toy vehicle to crash into. As a result, it can also be a fun set for children to play with on their own.
No products found.
Race Car Sets
Another super fun way for children to use these sets to play with each other in small groups is to use the racing sets that are available. These enable kids to build 2 tracks side by side that let them race two Magic Tracks cars against each other.
They feature starting and finishing lines so that you can tell who the winner is. Kids can have a blast creating different kinds of tracks for their races together.
No products found.
Xtreme Sets
The Xtreme sets are similar to the standard ones, however, they come with track pieces that shine brighter. Furthermore, the toy cars included in these sets have an additional LED light installed which makes them glow brighter while flying around the track.
These sets may be a more exciting option because of how much more the entire set glows. Furthermore, the to vehicles can travel at faster speeds.
Mega Sets
The Magic Tracks Mega Sets come with 2 car toys and track pieces to let kids build and play with a larger set. They're a total of 18 feet in length and allow kids to play in groups watching their toy cars go around. The increased track pieces also encourages even more creativity.
Regular Sets
The regular sets include glow up track pieces and one or two toy vehicles. They're shorter in length compared to the Mega sets but can be more manageable if you have a smaller space to use them in.
Remote Control Cars
Magic tracks RC sets can be a ton of fun for slightly older children to have fun with. The remote allows them to control whether they want their car toy to move forwards or backwards. They can also press buttons to activate an ultra boost mode to make their toy car speed up more. Moreover, buttons are available that they can press that cause sound effects.
---
About the Ontel Brand
The parent company, Ontel has been making toys for kids for years. They manufacture the toy car sets written about here along with other toys such as the MagicPad lightup tracing pad and even the Dream tents. The also manufacture a bunch of other household items. If you take a second to think about their name "On Tel" you'll quickly understand that their specialty is jump starting the marketing of their products "On Television" or marketed in a way that is more commonly known as As Seen on TV.
---
Official Magic Tracks Commercial
---
Where to Buy Magic Tracks?
You can buy Magic Tracks sets and cars on the company's official website and they usually run a special discount or 2 for 1 offer. You must be at least 18 years to place an order. You can also find them on Amazon without the special 2 for 1 offer.
---
Shipping & Delivery
After selecting your set and placing your order on the official site, you'll be given a confirmation that your delivery is on its way. To provide you with a peace of mind, you're able to track the package between 24 and 48 hours after you've received your order confirmation.
As a result, you're able to see exactly where your package is on its transit to arriving at your address. You can also keep updated with the status of the order and if there will be any delays to better anticipate the day of arrival.
---
Returns
If you're concerned about your child not enjoying the set that you choose, you can simply return it. However, it must be within the 30 day window that they provide you with.
If you return your item within 30 days of receiving it, you'll receive a full refund. You can expect the refund within 7 business days once they've confirmed to have received your return. You may also be charged a $3 fee for the returned package.
---
Customer Service Information
We liked how the brand has a customer service team that includes a friendly staff who is there to help you with any queries you may have. For help around the clock, you can go to www.customerstatus.com or send them an email to magictracks@rehelpdesk.com.
Alternatively, you could also choose to call the company if you wanted to speak directly to someone. You can reach them on 800–793–5469 from between 8AM and 8 PM eastern standard time.
---
Frequently Asked Questions
How do you turn on the car toys?
Start off with placing batteries inside the toy car by following the instructional booklet that's included. You can then find the button located on top of the toy which you can press to start it up. When you want the toy car to stop, you can press the same button.
If you're having issues turning the toy car on after the batteries have been inserted, ensure that you're not using Duracell Quantum batteries. This is because these batteries have been the cause of a common problem and people have had issues with their toy cars not working.
Why are my Magic Tracks cars slowing down?
Most of the time, a noticeable drop in speed is because the batteries need to be replaced. Check the instructional booklet on how to properly switch out the batteries.
Where can you get Magic Tracks accessories?
There are some awesome Magic Track accessories on offer which you can find on the official site. These include expansion sets with more track pieces, bridges to add a new element to the track design, and intersection pieces that can let kids crash their toy cars into each other.
How do the track pieces assemble?
The instructions that come with your set provide you with the details on how to put the trax pieces together. We liked how they've designed the process to be super easy for kids.
You can start by grabbing two pieces and ensuring the the bottom and top tabs are lined up with each other. You can then push them into place where you'll hear an audible click sound. Hearing this sound gives you confirmation that the pieces have been properly assembled. You can then carry on putting the pieces together until your first piece connects with the last piece for a completed track.
Can the car toys be customized?
We were pleased to find that these sets come with decal sheets which children have been loving. They can use the stickers on the decal sheet to customize their toy cars and put their imaginative thinking skills to use.
Can I buy Magic Tracks cars only?
You can find a range of toy cars that can be purchased separately on the official site. These cars include fire trucks, police cars, racers, and more. So, if you were wondering where to get Magic Track replacement cars, you can find them on their website.
---
Conclusion on Magic Track Sets & Brand
The Ontel Magic Track Race Cars can provide children with hours of fun. They have a lot more to offer compared to regular toy race tracks due to the bendable glow up pieces, creative track designs, light up toy cars, as well as the variety of different sets they have to offer.
Kids can have fun using the Majic Tracks to play on their own or with friends and family. They can crash them, race them, or simply observe how cool they look while going around the track. Not to mention, the glow in the dark features can make the sets great for a bedtime play.
If you were considering buying your child one of these sets, you can use the details found throughout this post to make the best decision possible.