Turning 18 is an exciting and uncertain time for most young women. They are either on the verge of graduating high school or have already graduated and now are in college, working or looking for work, or may be in some type of job training. Most 18 yr old girls are eager to get out on their own and experience life so if she isn't already that teen may be off living in a dorm or an apartment either alone or with roommates. Choosing gifts for Christmas, birthdays and Valentine's day for young women of this age should reflect the teens growing independence and needs. We hope you enjoy the the list of the best gifts for 18 year old girls here.
Helpful Tips for Choosing Great Stuff for 18 Year Females
Teens who are moving out on their own for the first time need everything to set up their own home, so purchasing them gifts for their home makes for great gifts and helps them get by on their limited budget.

Many 18 year olds have a wide variety of interests, so any gift that encourages those interests will be much appreciated.

Don't forget that young women still love beautiful things and have an interest in clothing and pretty jewelry so these types of gifts will never go a miss.
---
11 Popular Gift Suggestions for 18 Year Girls
Here is our list of gift suggestions for young adult females. After the list we include some alternative ideas if you're teen girl already has everything on our list or none of our ideas are a good fit for her.
1. Multi-piece Luggage Set
Every young woman needs a Good Set of Luggage , whether they will be traveling to school, or living in an apartment and traveling on weekends to see sights or visit friends. This 4 piece luggage set, has two large suitcases on wheels for longer travelers a small bag for overnight stays and a toiletry bag. The luggage is easy to clean and comes in your choice of 4 colors. This luggage makes a great gift for any young woman about to embark on a more independent life.
Click here to see the latest price!
---
2. Toiletry Kit
Another great gift for young women who are moving out on their own or living in a dorm is a toiletry kit that contains all the items for their personal hygiene. This 21 Piece Toiletry Kit contains everything needed to keep you clean and smelling fresh. The items in this kit are small enough to meet TSA requirements making this a go anywhere kit. This kit makes a perfect birthday or Christmas gift for any older teen.
Click here to see the latest price!
---
3. Little Black Dress
Every young lady needs a little black dress and this InsNova Black Dress makes a perfect gift for an older teen. This dress can easily go from day to evening wear simply by putting a blazer or a cut indoor jacket over it and then be worn for a business meeting or date by changing jewelry. This versatile little dress will add a bit of sophistication to your teens wardrobe. Most users found this dress both great for work and more formal occasions and felt it was comfortable and attractive looking.
Click here to see the latest price!
---
4. Basic House Cleaning Kit
This Jaws Cleaning Kit makes a great housewarming gift for any young woman who is moving into her apartment. You can make this gift even more special by gifting a laundry basket and laundry supplies as well and placing all of the home cleaning gifts in the basket along with some cut kitchen dish towels and cleaning sponges. The kit will come in handy and your teen will love the fact that you want to make her move into her new home as easy as possible. Great for keeping a dorm room clean as well.
Click here to see the latest price!
---
5. Birthday Flower Necklace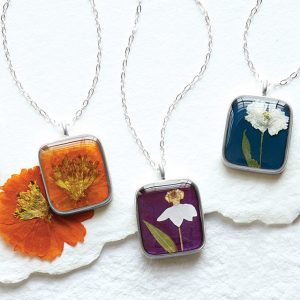 The perfect gift to celebrate your child's 18th birthday and her turning into an adult is this Beautiful Birthday Flower Necklace. It is cute and feminine without being over the top or too girly and looks great for either casual or more formal dress. You can even turn this necklace into a set by including A Pair of Matching Earrings. A colorful birthday gift that any girl will love.
Click here to see the latest price!
---
6. First Aid Kit
Whether living in a dorm, an apartment, or simply driving in a car, everyone needs a first aid kit in case of an emergency. This 100 Piece First Aid Kit makes a great gift for any young adult who has become more independent and wants to go out on their own. This kit has all of the essentials, including cold pads, antibiotic wipes, creams, finger splints, bandages, band aides and more. This gift may seem a little underwhelming to your teen at first, but the very first time they need it they will appreciate the thoughtfulness of this gift. Best of all, this gift is inexpensive enough that you can combine it with another gift if you choose.
Click here to see the latest price!
---
7. Set of Makeup Brushes
A great set of makeup brushes makes a great gift for any young adult and this Jessup 15 Brush Set has a wide variety of brushes, which will make putting makeup on easy and simple for most women. The bristles on these brushes are soft, but not too soft and hold up to being cleaned without losing bristles. Great for long time use.
Click here to see the latest price!
---
8. Basic Cookware Set with Utensils
If your teen is moving out of your home into their first apartment they are going to need everything to set up their own home. Gifting the teen A Basic Cookware Set with some utensils makes a great housewarming, Christmas or even birthday gift. Any young lady who loves cooking will love this starter kitchen set by T-Fal. To make this gift even more special, why not add a spice kit to the gift package. This Spice Rack and Kit by Kamenstein comes with 5 years worth of spice refills making this a wonderful gift for anyone who loves cooking.
Click here to see the latest price!
---
9. A Great Sweater
The perfect accompaniment for a pair of skinny jeans or leggings is this Oversized Sweater makes a great gift for any young women who wants to be fashionable and trendy. This sweater comes in a wide variety of different colors and is soft. It's a great sweater for both fall and winter wear. Personal gifts for teens are always well appreciated.
Click here to see the latest price!
---
10. Laptop Computer Desk
This Laptop Computer Desk that is perfect for using your laptop in a bed or when sitting in a chair or a sofa. It makes answering emails, browsing the Internet or writing papers more comfortable since your teen won't have to try and balance the laptop while working on it. This desk has a memory foam bottom making it soft and comfortable on your legs, while the solid top makes for a stable surface for your laptop.
Click here to see the latest price!
---
11. Great Leggings
No products found.
Leggings are still trending for 2020 with bright colored leggings being especially on trend. These No products found. are great for most women and these leggings are cheap enough that you can gift the young woman in your life several pairs in different colors. These leggings are perfect for working out, for wearing with oversize sweaters or even with short skirts making them an extremely versatile addition to any young woman's wardrobe.
Click here to see the latest price!
---
What Are Unique Gifts for 18 Year Old Girls Who Have Everything?
There are other great gifts for older teens that we couldn't include on our list. Some of the these types of gifts for girls will depend on what local businesses are in your specific area. These gifts include gift certificates for gas, for the local bookstore, or for dining in local restaurants.
You can also gift an older teen with a day at the spa or weekend trip with a friend to a place she has been wanting to visit.
---
Related Gift Guides
---
Conclusion
Keep in mind that while we think our list of gifts for 18 year old girls should be suitable for any teen of this age, your child may have different needs and therefore this list may only serve as inspiration for gift giving for your teen.