If you've been interested in the Magic Pad As Seen On TV, you may want to check out our detailed review of the product below. We've researched this item and gathered all of the information to help you discover more about its features and benefits.
Children can keep themselves engaged in using the doodle pad for hours. It's a fantastic way to encourage them to be more creative. Everything that they need to get started is included.
After reading our review, you'll be left feeling more assured about whether you think your child would enjoy playing with the item.
Magic Pad Review
---
This light up tracing pad is available in a deluxe version which is one of the more popular toys among kids. All of the items that kids need to start getting creative are available. They include an impressive range of 42 stencils, which is 12 more than what you would get with the standard version. This set makes for a great gift for both boys and girls.
As a result, children are provided with more stencils to use and get creative with for longer periods of time. They can also use these stencils as a way to get inspired to come up with their own designs.
Another one of the main differences between this deluxe version and the standard one is that it comes with double the number of LED lights. Therefore, the board is able to shine with more brightness which can make it more exciting for kids to play with. You can turn the lights off and turn the LED lights on the board on and watch how your kids look in amazement.
This brighter light feature enables kids to use the drawing pad as an alternative to a night light. They can make their drawing and put the pad up on display on their bedside table. It's bright enough to helping kids avoid sleeping in complete darkness, but dull enough to where it won't be keeping them awake.
There are a total of 8 lighting effects to use as well. These lighting effects can be easily used by pressing the button on the pad. So, you can be sure to select the one that's most appropriate for bedtime if that's what you're looking to use it for.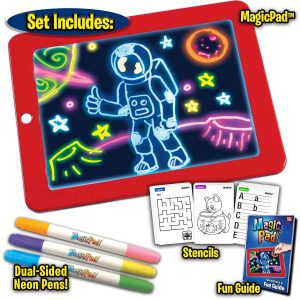 Children can have fun drawing and turning on the various lighting features for an exciting bedtime activity. You can have the lights turned off while your kids are doodling to make them sleepier to get a good night's sleep.
We were also impressed with how suction cups are included. This lets kids put their artwork up on display around different areas in the house, such as the refrigerator. The two suction cups that are available can stick the pad securely to surfaces for children to be proud of their creation.
The overall size of the area that kids can use to draw on is 30% larger compared to the standard version. This means that children have more room to create more adventurous doodles and be super imaginative. They can also personalize their doodle pad by using the stickers that are included to decorate the border however they like.
Dual sided pens are available too. There are 4 pens in total which enable kids to use 8 different colors to be as creative as possible with. People have been liking the dual sided feature as it provides kids with multiple colors to use, without the hassle of having to store more pens that could go easily missing. In addition to this, a case is available too.
Therefore, you can be sure to keep your child occupied in drawing while you're traveling. The case also lets you conveniently keep all of the items stored in one place. Not to mention, you can easily slide the neon markers into the tracing pad for even easier storage options.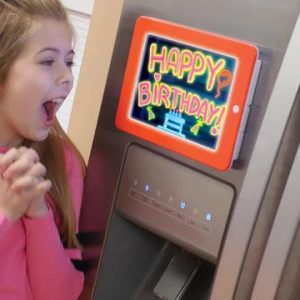 Children can effortlessly start their drawings over again if they're not happy with it or want to come up with a new creation. This is because of the wiping feature. All you have to do is wipe the board and you're able to start fresh. It's a feature that ensures kids can continue having fun with drawing for a long time to come.
The pad can also be a fun activity for kids to be involved in with other people. They can get together in groups with family and friends to play games, such as Tic Tac Toe.
Parents have been using the doodling pad as an educational tool as well. The light up effects make writing down letters and numbers a lot more interesting compared to writing them own on paper. Therefore, it can be a fun way to encourage your child to learn more about math and English.
Pros
LED lights are durable
Free from mess
Easy to follow guide available
Cons
No other types of markers are compatible with the pad
Some were disappointed with how only blue & red border colors are available
---
Official MagicPad Commercial
---
Additional Info on the Magic Pad & Ontel
Ontel is the brand behind the magicpad and they have several other great toys including the Magictracks race car set and Dreamtents. Ontel has been making toys that they market through informercials for years along with many other types of products.
ow that you've been able to gain a better idea of what this doodle board has to offer where you can purchase this ASOTV product.
If so, the sections below will be useful as it's full of details about the ordering process, returns, and common questions that people have. By the end, you'll be able to feel even more assured of this item and the manufacturer behind it.
---
Magic Pad FAQ
Where Can You Buy the Magic Pad?
This drawing pad is available on the official website at buymagicpad.com. On this website, you'll find that they usually have some type of offer. Depending on when you visit the site, these offers can vary a lot, but it's likely that you'll be able to get a good bargain when you purchase through their website.
You can also get the Magic Pad from Amazon, which may suit those better that prefer to buy from a large trusted retailer.
What Does a Light Up Tracing Pad Do & How to Use It?
This light up pad comes with a range of stencils and pens with neon colors. They can use the pens and stencils to draw on the board. Alternatively, they can simply use the neon markers to come up with their own designs by using the different colors that are available.
Once they've completed their drawing or writing, a button can be pressed that causes the colors to light up. This is a result of the bright LED lights that have been fitted. There are more lights in the deluxe version which makes the drawings illuminate even brighter.
Furthermore, children are provided with 8 different light up modes that they can easily switch between by pressing the button. Once they've had enough of their drawing, they can easily wipe the board down to get rid of it completely. This lets them begin a completely new design to keep things exciting.
Using the pad will require 3 AAA batteries. While looking at the Magic Pad reviews, we found that the higher number of LED lights included with the deluxe means that you'll be going through batteries frequently, especially if your child uses it a lot.
Turning the pad on is very easy. This is because a booklet is included that provides you with details on the various processes to turn the pad on. When you've turned it on, you can leave your child to get as imaginative as they like.
Furthermore, since the markers have a double sided design, you're able to save space on storing more pens.
What Age is the Magic Mad Recommended for?
The recommended age for this drawing board is 3 years and older. So, it's excellent for older kids, as well as toddlers to enjoy. The age recommendation of 3+ years is to ensure that your children can make good use out of the board.
When kids are younger, they may not find it as interesting because they're still developing their creative thinking processes, as well as their motor skills and coordination to be able to draw.
For kids who are older than 3 years, you can take advantage of the board for educational purposes. They can have more fun learning from the light up pad compared to standard paper and books.
Is the Screen Durable?
Parents have been surprised to find how durable the screen on this doodle pad is. This is because it has been constructed with high grade plastic materials that are safe and can withstand damage and rough use from kids.
How Do You Properly Wipe Down the Board?
We recommend using a completely dry cloth to wipe the board. Ensuring that the cloth is dry is important to prevent moisture seeping inside and affecting the LED lights.
Can Other Pens Be Used With the Pad?
It's a good idea to only use the pens that have been specifically made for the pad. This is because not all other types of marker will work well and it can cause the screen to become damaged. Furthermore, they may not wipe off as easy compared to the markers that are provided.
Is There a Good Variety of Colors?
The dual sided pens enable kids to use pink, yellow, purple green, orange, and blue colors. So, there's plenty of colors to let your child get creative and come up with all kinds of vibrant drawings and designs. There are also 2 colors available on both sides of each pen.
How Long Do the LED Lights Last For?
We were impressed that the LED lights inside this light up pad can last for approximately 10,000 hours. While the batteries may need replacing to keep them powered, you can be sure that they'll be able to shine bright for a long time.
---
Shipment
When you order through the official site, they'll send you an email to let you know that it has been confirmed. You can then expect the item to be delivered within 30 days by Fed Ex Smart Post.
Since the 30 day delivery time is a little long, you can be given the reassurance that your order is on its way by using the tracking feature. You can use the website to type in your order details and you'll be given information on the status of your delivery and when it will arrive at your address.
---
Returns & Refund
If you're not 100% satisfied with the product, you'll be glad to hear that there's a money back guarantee time period of 60 days. This is plenty of time to make sure that your child is having fun with the doodle pad. If you find there's problems or it doesn't live up to your expectations, you can simply return it, within the 60 day time period.
If you do want to return the item, you'll need to acquire your authorization number which you can find by getting in contact with their customer service department. Once you have this authorization number, you'll be able to return your item via USPS.
They'll also need your home address, email address, phone number, and name when sending the item back.
---
Customer Service
You're able to contact the customer service team by sending an email to magicpad@rehelpdesk.com. If you wanted to speak with someone directly, you can also ring them on 800–203–1445.
Whichever way you choose to contact them, you'll be able to deal with a member of staff who's knowledgeable and friendly to help you out.
---
Conclusions Regarding the MagicPad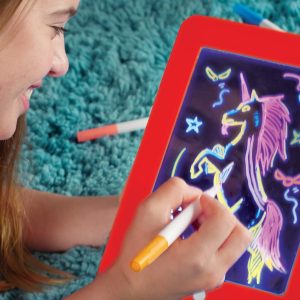 If you had seen the Magic Pad reviews and were wondering what it was all about, you can now feel more sure as to what it is and the benefits that it can offer to your kids.
Children can keep themselves occupied for hours while drawing and coming up with fun designs. Parents like how they can also turn it into an educational tool by encouraging kids to learn about math and English while writing on the board. It can even be a great activity to help your kids sleep at night due to the illuminating feature and how you can have the lights in the room turned off.
You can use the details throughout our review to decide on whether to buy the Magic Pad for your child! They could have a lot of creative fun and learn from the item too!