By the age of 10 most boys have improved agility and coordination and their gross and fine motor skills are better than ever before. While boys of this age still feel close to their parents and siblings and enjoy spending time with family they also feel a growing need to be accepted by their peers. They also have a growing need for privacy and enjoy spending time alone, engaging in solo activities that hold their interest.
Some 10 year olds act very mature and are developing an interest in grooming and clothing while others are still very much a child preferring to run and playing with toys and caring little about the clothing they wear or having their hair cut like their friends.
As such this is a tricky age to write for so we have carefully chosen toys and gifts for 10 year old boys that are suitable both for the more mature child and the one who is still almost exclusively into play and toys. As always we have chosen only the highest rated toys and gifts after hours of research.
To make shopping easier for you we have divided the gifts into three categories. The first category covers popular toys for 10-year boys. The second section is some great non-toys gifts for 10 year olds and the last section is our pick of alternate gifts ideas for a boy who has just about everything.
Helpful Tips for Choosing Great Stuff for 10 Years Old Boys
Keep in mind that boys mature at different age, so choose gifts that appeal to your child's current maturity level, not the level you feel your child should be at.
Try and provide gifts that your child can enjoy with family, friends and alone.
Try choosing toys that your child will find appealing and that are physically or mentally challenging enough to hold their attention.
---
10 Super Fun Toys for 10 Year Old Boys
1. Pogo Stick
This Flybar Master Pogo Stick is designed for older children (9 years and up) who love playing outdoors and have a lot of excess energy. This pogo stick has a wider tip to help provide additional safety and non-slip foot pegs so that your child can experiment doing various tricks like one handers, one footers, no footers, and no handers. Learning tricks on a pogo stick will keep any young man interested and having fun. All-in all this makes it a great option as a 10th birthday gift.
Click here to see the latest price!
---
2. Handcrafted Wooden Moving Craft Kit
Many boys of 10 enjoy building models and this Moving Parts Wooden Model Kit makes a great gift for any young man who enjoys building models. This kit will help your child develop attention to details and once the model is completed your child simply needs to wind the key to get the model to come to life with a number of turning gears. A great project for your child to work on alone or as a parent/child project.
Click here to see the latest price!
---
3. Marky Sparky Faux Bow and Arrow Set
If the growing boy in your life is interested in archery, but is still too young for you to comfortably give the child what could be a dangerous weapon then this Marky Sparky Bow and Arrow Set is probably the next best thing. This set includes the bow, 6 arrows and a quiver.
The bow and arrow is great for teaching a child bow and arrow safety and allowing them to practice with targets. The tips of the arrow is made from foam, making these arrows incredibly safe without effecting the distance.
Young men can enjoy using this set alone or engage in target shooting competition with friends or family members.
Click here to see the latest price!
---
4. Slippery Racer Snow Sled
Most young boys love sledding in the winter time with all of their friends and this Plastic Racing Sled is designed to hold up under even constant use. This sled is coated with Slippery Racer Ice vex cold resistant treatment so that this sled can hold up to even coldest days of sledding. This sled measures 48 inches long. With this gift being good only during the winter it makes for an excellent Christmas gift, especially if you're fortunate enough to have a white Christmas.
Click here to see the latest price!
---
5. Diggin Dodgetag Game
This fun game is a Combination of Dodge Ball and Tag . The game comes with 2 different colored vests and 6 balls and is designed for 2 players. The object of the game is for each player to put on one of the vests and throw the soft foam balls at each other and get the balls to stick to the vest.
This is a great game for kids and adults alike and it certainly makes a good gift for kids of this age. You may want to give two or three sets of this game as a single gift so teams can be assembled.
Click here to see the latest price!
---
6. Snap Circuits Extreme
This Snap Circuit Set allows your child to work on 750 different projects while gaining a little knowledge about electricity. The set comes with 5 instruction books and the projects range from quite simple to more complex so your child can build on the skills he learned from the previous projects. This a great gift for a child who likes to spend time alone and experimenting.
Click here to see the latest price!
---
7. Sound Activated Light Blocks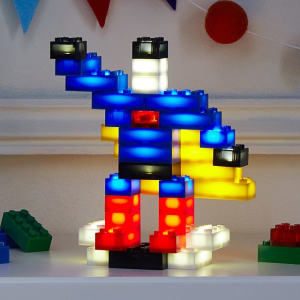 View Product on UncommonGoods
If your child enjoys building these Sound and Light Activated Blocks will provide hours of imaginative fun. Whether your purchase the 50 piece or 240 piece set that ten year old will enjoy seeing his project glowing alive as he adds blocks to the rechargeable power base.
Click here to see the latest price!
---
8. Bottle Bash
By the time most kids reach 5th grade tossing a Frisbee round has become a bit boring, so having a game that takes Frisbee to a whole new level can add some outdoor fun to your child's life. The Bottle Bash Frisbee Game is a game of skill in which members of two teams try to throw a Frisbee type disk and knock plastic bottles off a tall pole. The game is portable enough it can be taken to the beach, park, played in a gym or enjoyed in your own backyard.
Click here to see the latest price!
---
9. Cobra Bands Craft
No products found.
Who says that friendship bracelets have to be just for girls. These No products found. are fun for young men to make and share with their friends and are masculine enough that they actually enjoy wearing them. This is a great gift for any maturing young man who enjoys crafts and wants to be "cool".
Click here to see the latest price!
---
10. Electronic Bop It
Electronic Bop It is fun game is a great gift for your child and can be played solo or pass around for fun with friends. This game follows sequence type games that will help your child develop good memory skills. This small size game is perfect as a stocking stuffer or to be placed in an Easter basket. The real challenge is trying to get more and more points as you play.
Click here to see the latest price!
---
5 Best Non-Toy Gifts for 10 Year Old Boys
1. Biker Style Jeans
At this age many boys are growing into young men and are concerned with dressing and fitting in with their peers and these Trendy Biker Style Jeans are sure to help any boy of this age dress like his peers and feel good in what he is wearing.
Click here to see the latest price!
---
2. A Science Microscope
Boys of this age are just learning about things that cannot be seen by the naked eye (germs and viruses) and a microscope is a fun way to introduce a boy to the unseen world. The great thing about this Educational Microscope is that not only are there already prepared slides, but your child can prepare slides themselves and look at such things as insect wings, drops of water and anything else they wish.
Click here to see the latest price!
---
3. A Good Book to Read – Up the Creek
Up the Creek is an action packed book suitable for boys around the age of 10. Most boys will be able to relate with some of the characters in this story and will enjoy the friendship the boys in this story share.
Click here to see the latest price!
---
4. A Good Pair of Binoculars
If you have a child who loves nature and is interested in observing any type of wildlife whether birds, deer, rabbits, squirrels or other animals and can't get as close as they would like, then gifting them a good pair of binoculars so they can observe wildlife from a distance may really make that young man jump for joy. This Pair of Binoculars will magnify objects ten times allowing your child to spot and watch wildlife from a distance.
Click here to see the latest price!
---
5. Lightweight Jacket
A Lightweight Jacket always makes a handy gift for boys who enjoy spending time out of doors in the spring and early fall. While hoodies can be great for keeping a young man warm, a real jacket is more suitable for some occasions and this stylish jacket is perfect to wear to school or to church.
Click here to see the latest price!
---
What Are Some Great Ideas For A Boy of 10 Who Seems to Have Everything?
There are occasions when that boy on your shopping list seems to have more than enough clothes and toys and simply doesn't need any more. This can make gift giving a little more tricky so here are a few suggestions for the young man who seems to have everything.
Consider a Pet – Most kids want a pet of one kind or another, and this is the age when boys are responsible enough to care for a pet. However, if this is to be a child's very first pet and his parents approve him having one, it is best to choose a pet that will be easy to care for such as a fish, a hamster or a guinea pig.
Give the Gift of An Experience – Children are always eager to try new things so why not give them a new experience. You can purchase a lesson for the child such as an animal tracking lesson, swimming, music, sports etc. Of course there is always an experience such as a sailboat adventure, treasure hunting or other unique adventure if they are offered in your area.
---
Related Gift Guides
---
Conclusion
Ten year olds are rapidly maturing and their interests seem to be changing day to day, which is why there are so many great gifts for boys of this age. We hope this gift guide will help you find just the right gift for that growing boy on your shopping list.