Most 11 year old boys love toys and activities that are cool or new and hold their attention. They love playing outdoors with their friends and also like indoor activities that are both fun and challenging. We have spent hours reviewing and picking out the very best toys and gifts for 11 year old boys based on the cool factor of each toy and their high ratings.
In order to make using this gift guide as easy as possible for you, we have divided the gifts into 3 sections. The first section is dedicated to popular toys for 11 year boys. The second section we have covered some unique non-toy gifts for eleven year olds and the last section is for boys who have a room full of toys, a closet full of clothes and require a gift that is an alternative to the more traditional gifts for kids.
Helpful Tips for Choosing Good Stuff for Boys
Your boy is growing up fast so consider gifts he can grow into rather than a toy he may outgrow in a few months.
Remember that these are the last of true the childhood years so don't rob your child of that with only practical gifts, make sure to include some fun stuff.
Take note of your boys hobbies. Does he like sports, playing board games or is he artistic? Look for gifts that further encourage your child's growing interests.
Pay close attention to the clothing your sons friends are wearing. At this age kids find it increasingly important to fit in with their friends. trends of boys this age.
---
10 Super Exciting Toys for 11 Years Old Boys
1. Mini Helicopter Drone
Most boys find drones absolutely fascinating and many would like to own one of their own. This Mini Helicopter Drone is a great starter drone for an 11 yr old. The drone is compact and portable, easy to control and will do a 360 degree flip. Small enough for your child to carry in their backpack or even into a jacket pocket this helicopter will provide hours of entertainment for most kids. This drone requires a 3.7V 180mAh Lithium Polymer battery for the drone itself as well as 4 triple A batteries for the control. The control batteries do not come with the drone.
Click here to see the latest price!
---
2. Gravity Maze
This Gravity Maze Game is part marble run and part logic puzzle that is designed to help build your child's problem solving skills. This game comes with 60 puzzle cards that run from beginner to expert. The point is to build a tower that you can get your marble through.
Click here to see the latest price!
---
3. GlowCity LED Basketball
This Glow In The Dark Basketball makes playing basketball with friends more fun because it can be played in the dark. The ball contains two changeable LED lights that makes the entire ball glow and adds an element of fun to a traditional game. To make this LED basketball even more fun why not add the No products found. to complete the gift and make playing basketball after dark even more fun.
Click here to see the latest price!
---
4. Fat Brain Toys Pencil Nose Game
While much of the time 11 year olds seem to prefer spending time with their friends rather than their family, they still want to spend time with you and a great way to provide your child with an excuse for spending time with the family is by gifting them a fun game that they are eager to play. Pencil Nose is a fun game that is a lot like Pictionary, only the drawer puts on a fake nose and draws with that nose while their team tries to guess the picture.
This is also a fun game to play with both family and friends.
Click here to see the latest price!
---
5. Fat Brain Toys Off Bits Robot
This Fat Brain Toys Robot Building Kit is fun to build and also gives young men an idea of what they can build with spare parts such as springs, bolts, screws and also other odds and ends. This building kit comes with an instruction book for building 3 different models and from there your child can go out on their own and use their imagination to find odds and ends around the house to take their building to the next level. This is a great kit for firing your child's creativity.
Click here to see the latest price!
---
6. Lego Hogwarts Castle
If your son is a Harry Potter fan and is a Lego enthusiast then this Lego Hogwarts Castle Building Set will make a great Christmas or birthday gift. With over 6000 pieces and several Harry Potter characters this building project is great for anyone who enjoys model building. It comes with an instruction book and when completed this castle stands almost 2 feet high. This is one project that will take most young men a couple of weeks to complete.
Click here to see the latest price!
---
7. Slingball
While playing catch is a great deal of fun for younger kids, by the time a child reaches late elementary or middle school regular catch is often boring. However, the Slingball Game of Catch changes all that by putting an age old twist on a common childhood game. Slingball is the perfect gift for encouraging a growing boy to get some exercise while having fun at the same time.
Click here to see the latest price!
---
8. Mongoose Expo Scooter
This Mongoose Scooter is a fun alternative to a bike giving a child another form of transportation they will really love. It has a weight capacity of 220 pounds so it is perfect for most 11 year olds. Best of all this scooter will run on gravel, grass and hard packed dirt roads. Plenty of fun for kids who are always on the go.
Click here to see the latest price!
---
9. Gyroscope
This DjuiinoStar Anti-Gravity Gyroscope is the perfect stocking stuffer for almost all children for Christmas. It's a great time waster, but also can be used when feeling bored, or needing a brief break from homework. It's fun to see how long you keep this top twirling with the record being set at 26 minutes. It's great for relieving stress and for those who need a few minutes simply to let your mind wander.
Click here to see the latest price!
---
10. My Comic Book Kit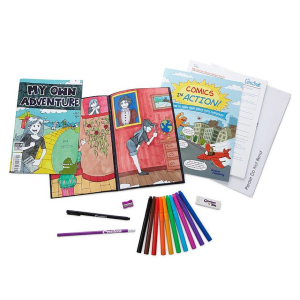 This is the perfect gift for any creative child who dreams of becoming an author. Not only does this Comic Book Kit allow your child to write their own comic book with their very own illustrations. Once your child has completed their story, they send it off in the prepaid envelope and in 4 to 6 weeks will get back their own professionally bound version of their literary work.
Click here to see the latest price!
---
Popular Non-Toy Gift Ideas for 11 Year Old Boys
1. Uideazone Boys 3D Hoodie
What little man doesn't love a cool hoodie, and this 3D Hoodie comes in a variety of different prints and designs making it a perfect gift for older boys regardless of their taste. Some of these designs are really different and sure to capture the attention and imagination of almost any boy on your shopping list.
Click here to see the latest price!
---
2. Percy Jackson Book Set
If you are looking to give the upper elementary or middle school age child something that will transport them to a different time and a different place, will bring home how enjoyable reading can be then this Percy Jackson Book Set is the perfect gift. There are 5 books in this series and each book is filled with humor, action and adventure that encourages the imagination and makes even the most reluctant reader eager to read the next chapter to see what will happen next.
Click here to see the latest price!
---
3. How to Draw Cool Stuff
Most 11 year olds are up to trying new things in order to find out what they are really good at and things that interest them, making the Cool Drawing Book a good present. In addition, as your child gets older they are often asked to illustrate papers or do other types of drawing activities so why not give that young man on your shopping list a head start on finding a new hobby that they can enjoy. You can complete the gift by including a drawing pad, drawing pencils and charcoal pencils to give them an artistic gift that will enjoy trying out.
Click here to see the latest price!
---
4. Temporary Tattoos
No products found.
With so many people sporting tattoos these days. It is only natural that younger kids also want to know what sporting a Tattoo is like or else they just want one because they think they look cool. This No products found. come with a lot of realistic tattoos and will last between 3 and 5 days in most cases. This is a fun gift that most boys will like.
Click here to see the latest price!
---
5. Warm Winter Socks
Between snowman building, sledding, snowboarding and those countless winter snowball fights boys of 11 can sometimes spend a lot of time out of doors. This can leave feet feeling cold and number which makes giving the young man on your shopping list a few pairs of warm wool winter socks a great idea. The JoJo Wool Socks are not only able to keep feet toasty warm they are colorful and appealing as well.
Click here to see the latest price!
---
What Are Some Unique Gifts for an 11 Year Old Boy Who Has Everything?
Pay for Camp Fees – If the boy in your life is interested in baseball, football, music etc. then why not pay for them to go to a sports, music or art craft camp so they can improve their skills.
Give A Day of Adventure – At this age children crave adventure so instead of giving a toy or other gift why not give the child a day of adventure such as visiting a rock climbing wall, A tubing or rafting trip or an overnight camping trip.
Gift Certificates – A gift certificate for a local hands on science museum, aquarium or Planetarium also makes a great gift for any young man who is curious about the world. A gift certificate to an online shop that has unique gifts is also a great idea!
---
Related Gift Guides
---
Conclusion
So that concludes or list of the best toys for 11 year old boys and also some great non-toy gift ideas for boys who are celebrating their 11th birthday. We hope that we have inspired further thought to make this your best gift giving experience yet!