Most 11 year old girls are in the midst of transitioning from being a child to becoming a teenager. This means that they are at an age when they enjoy exploring their creativity, fashion, and the use of make-up while still enjoying spending time with friends in active activities and unrestrained play.
In this gift list we have chosen the best rated toy and gifts for 11 year olds based on their varying interests. To make finding the type of gifts you are searching for much easier we have divided the lists in this guide into 3 categories. The first category is the best toys for girls of this age. The second category is for non-toys gifts and the third is alternative gift ideas for young girls who have a plethora of toys, games, and clothing.
Helpful Tips for Choosing Great Stuff for 11 Year Old Girls
When choosing 11 year old girl gifts find stuff for both inside and outside activities.
Consider choosing gifts for the young lady in your life that allows her to explore her interests and her creativity regardless of what those interests may be.
Take note of what other girls this age wear, things your daughter talks about, what her and her friends like to do together etc. This will give you a lot of insight into the child's current interests.
Don't dismiss the girl's idea of cool, even if you think something they want or are interested in is silly or a waste of time. Kids this age have different interests than most adults.
---
10 Great Toys for 11 Year Old Girls
1. Pendant Jewelry Making Kit
Girls of any age seem to be interested in jewelry and with this Pendant Making Kit the young girl on your gift giving list, can not only wear these pendants, they can make them themselves. There is enough materials to make 8 different pendants, and your child can choose from 200 images so they can make pendants they really want to wear!
Click here to see the latest price!
---
2. Pindaloo
Looking for a fun boredom buster for your child that she can use indoors or out? If so then the Pindaloo Game should be a huge hit. This is a game that is challenging and best of all once your child gains the basic skills they can go on to actually perform tricks with this simple U shaped device and and a ball.
Click here to see the latest price!
---
3. Super String Lantern Kit
Believe it or not, most children who enjoy doing crafts, prefer to make something that they can actually use and these Super String Lanterns as room decorations after they complete the craft. The child learns the basics of string art and the LED candle that goes inside actually makes these lights useful for providing a little bit of light for the child's room. The directions are easiest enough for a child this age to follow and the results will be something that the child can be proud to add to her bedroom décor.
Click here to see the latest price!
---
4. Razor Jetts Heel Wheels
A fun alternative to roller blades, these Razor Heel Wheels will provide great outdoor fun. The fact that these heel wheels through off sparks when using them on cement on concrete only adds to the thrill of using these heel wheels as a mode of transportation. We do recommend that you also give knee, elbow and wrist pads with this gift for your child's protection.
Click here to see the latest price!
---
5. Crystal Growing Kit
Kids love exploring the world around them and this Crystal Growing Kit is an ideal gift for any child who shows an interest in science. Kits can learn about crystals and grow them and will find the results of their experiment beautiful and delicate. It will be fun for kids to watch their crystals grow day by day until they reach full size.
Click here to see the latest price!
---
6. Aerobie Flying Ring
Flying rings are great for playing catch in the backyard, at the beach, almost anywhere. Best of all the fact that these Flying Rings will encourage your child to invent creative games to play with this toy like an upgraded version of horseshoes, or seeing how far they can make the ring fly. Great fun for any 11 year old and their friends who are looking for something active to do.
Click here to see the latest price!
---
7. Flower Origami Kit
The art of Origami holds a fascination for people of all ages and many young girls are interested in learning this paper folding technique that results in the making of beautiful paper items. This Flower Origami Kit is the perfect beginner kit for any young lady who wants to learn how to create origami flowers. The kit comes with plenty of paper to allow for a bit of trial and error as well as enough
stems, buttons and jewels for a young lady to take her creations to the next level. Great fun for any young girl who wants to try learning a new craft.
Click here to see the latest price!
---
8. Simon Electronic Game
The Simon Electronic Memory Game is played by having players try to repeat the sequence of lights and sounds in order to win. This is a great game for individuals to play by themselves for with several other people taking turns with those failing to match the pattern being eliminated until only one player remains. This is a great game for including in family game night or playing with friends.
Click here to see the latest price!
---
9. Flybold Slackline
This Slack Line Kit comes with special pads to protect the trees you attach them too and provides great fun for any little girl while helping her to increase her balance. The slack line comes with an overhead training line to allow children to get use to balancing on the line before they try going it on their own. This slack line is great fun for young girls and their friends as they challenge one another to see who can go the furthest and the fastest in crossing the line.
Click here to see the latest price!
---
10. Katamino Game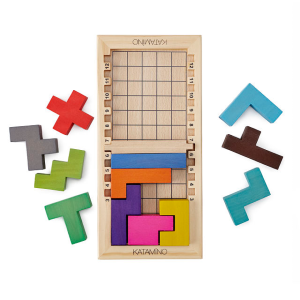 Great puzzle games that will challenge the mind of any 11 year old. This Puzzle Game starts out simple and as you move the slider piece lower and lower the puzzle gets more challenging and difficult making for fun play for your child. The idea of the puzzle is to fit the different shaped puzzle pieces in so that the entire area is covered.
Click here to see the latest price!
---
5 Useful Non-Toy Gift Ideas for 11 Year Old Girls
1. Knee High Socks
A great way to allow a girl to express themselves in through their clothing and these cute and colorful knee high socks will make their personality sizzle. These Knee High Socks will work equally well with dresses, skirts and jeans.
Click here to see the latest price!
---
2. Hair Chalk for Girls
No products found.
Does the young girl on your gift giving list want to experiment with some wild hair colors then this No products found. is perfect for letting any young girl experiment with any color they want and then simply wash out. With 12 great colors this is a fun gift for girls who are already becoming little fashionistas.
Click here to see the latest price!
---
3. Little House on the Prairie Book Set
For generations the adventures of Laura Ingalls Wilder and her family has given children a look into the life of children on the Western frontier. With 9 books in this Little House on the Priarie Book Series , there is plenty for your child to read while learning about history and allowing their imagination to grow.
Click here to see the latest price!
---
4. Skirt and Top
If you are looking for a cute outfit to buy for the young girl on your shopping list, this Cute Little Skirt , crop top and necklace set should thrill any young lady who likes dressing nicely at least occasionally. Getting a new outfit for Christmas or for a birthday is something most girls enjoy.
Click here to see the latest price!
---
5. Four Piece Leggings Set
This 4 Piece Leggings Set comes with a cute pair of leggings, a top, a jacket and necklace. This outfit runs in sizes 4 through 6 and the pieces can be worn together or with other pieces in your child's wardrobe. Any younger girl who does not like skirts or dresses should love this outfit.
Click here to see the latest price!
---
What are Unique Gift Ideas for an 11 Year Old Girl Who Has Everything?
If the little girl in your life has more than enough toys and clothes and you are struggling to find a unique gift to give her than she will enjoy here are a few suggestions that may help.
A Gift Certificate For A Special Class – If the young girl in your life has shown interest in playing a musical instrument, learning to draw, dance or even science giving them a certificate to try a class or attend a science camp can make a wonderful gift for any child.
Pass To An Interesting Place – You can give that young girl a pass to a museum, hands on science museum, aquarium, zoo or planetarium. You can even give them a pass to the amusement park. Any of these passes makes a great gift and will help a child to expand their world.
A Mother/Daughter, Aunt/Niece Day – Young girls enjoy spending time with the adult women in their life so why not gift that young girl with a special day out. You can plan a day of shopping and lunch or a movie date with the child making for quality bonding time that you both can enjoy.
---
Related Gift Guides
---
Conclusion
We hope that this little gift giving guide for 11 year old girls makes shopping easier and more fun. Feel free to use any of these gift suggestions to inspire and fuel your own ideas.